To inspire you, I wanted to share the timeline of how my husband + I met (10 years before our first date!) and the 10 valuable life lessons I learned when I was single (amidst lots of tears + frustrations).
I hope this helps you to know that even when things look like they might not be going your way, greater forces are at work in your life. (yes, even in your acting career!)
I also hope my story will help you ask yourself these 3 questions today:
What if my timing is divine?
What if everything is unfolding exactly as it's meant to?
What if I started keeping the faith?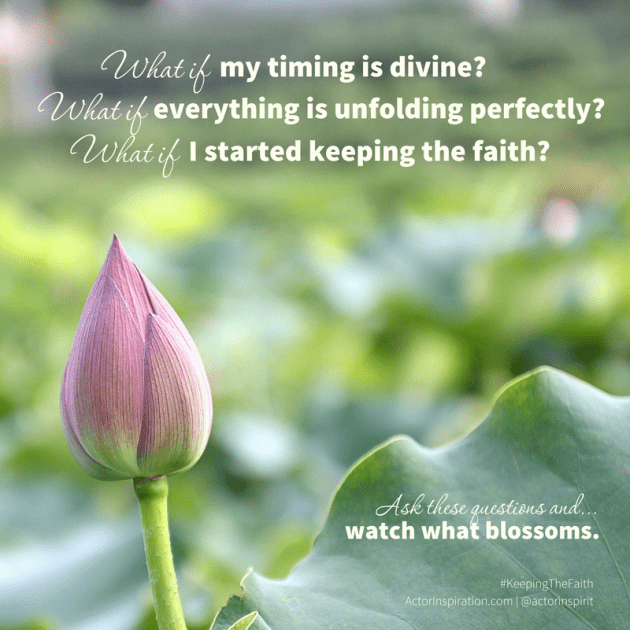 10 Life Lessons I Learned When I Was Single
1995 – Josh + I met on a UCLA student film. He was helping a friend + I had submitted through Backstage (back when it was a newspaper) to get experience on-camera (I had just done theater) and build my reel.
Josh was very handsome + kinda quiet throughout our shoot, so I figured he was super-cocky.
1. Sometimes we add meaning to an event or to a person that might not be true.
1999 – Four years later, I booked the lead in an independent film.  When I walked into the table read, there was Josh, who got cast as the other lead.  In my head, I thought, "Oh, there's that super-cocky guy from the short film I did a few years ago. Great."
Turns out, he was just laid back.
Turns out, he started dating the other lead girl in the film.
Turns out, we became friends.
Turns out, becoming friends was a really good thing, because had we dated back then, we probably wouldn't be married now.
2. Sometimes when the handsome, nice guy dates another girl and you become just friends, it might be a beautiful stroke of luck.
2000 – Our film goes to the Cannes Film Festival Market + Josh books a Series Regular role on Strong Medicine (Lifetime).
A commercial I did turns into giant spokeswoman contract including a 26 spot campaign + live personal appearances, but I still cry in my hotel room because I don't have a boyfriend + I hadn't booked a pilot.
3. Sometimes you're in the middle of something really great + you miss it by focusing on what you don't have.
2001 – One month after 9/11, I meet a guy on a park bench, while watching the sunset in Santa Monica on my way to a yoga class. I figure it's fate + we end up dating. I now have "said" boyfriend.
2003 – Boyfriend + I date for a year and a half and I'm convinced he's the guy I'll marry, since I had a timeline of how my life was going to go, and this was the year I would have been married. I'm blinded to some red flags because of my attachment to "this is how my life is going to go" timeline.
4. Sometimes your timeline needs to be chucked so the Universe can give you something even better.
2003 – The boyfriend + I break up. I'm devastated. I cry. I dance alone in my apartment. I go to a voice-over workshop the next day. I meet 2 of my now best friends.
5. Sometimes life will knock you down. Notice who is there to pick you up.
Twenty years later, these two beautiful souls, are still two of my dearest friends.  We've been there for each other in good times and bad.  And through it all, we've supported each through successes and setbacks.
6. Sometimes you will cry + dance alone in your apartment. This will be part of your story one day. Own it + dance full out.
2004 – In his 4th season of Josh's show, I book a guest star role on Strong Medicine. Josh + I have no scenes together, but he asks me to sit with him at lunch and we reconnect.
After the devastating breakup I had been through, I was about 6 months into enjoying "a year to myself" where I wasn't gonna date just to date, and instead focused on things like competing in a Triathlon + rediscovering who I am and what I really want.
Josh had just gotten out of a not-so-great relationship + I happily shared how much fun it was having "a year to myself" and suggested he try it. I said good luck + that was that.
7. Sometimes, in the midst of training for triathlon (or doing anything that scares you), you will discover you are stronger than you think.
2004 – I eventually go out with a few guys who are kind of intimidated that I did a triathlon. I don't downplay my achievement to make them feel better. (This is a breakthrough for me.)
8. Sometimes, your light is going to be too bright for others. Keep shining bright anyway.
2005 – One year later, I was shooting a pilot + Josh's hair stylist from Strong Medicine took a week off to work on the pilot I was shooting.
The hair stylist (the fabulous Shawn Finch) was doing my hair + mentioned he had worked on Strong Medicine. After sitting in his chair all week and chatting with me, he asks how come I had never dated Josh in all these years. And I said, "well, he never asked me out." (And I wasn't into asking out guys).
Shawn went back to Strong Medicine + mentioned to Josh that he had worked with me and 5 days later Josh called me.
2005 – 10 years after we met on that short film, we went out on our first date.
9. Sometimes who you're meant to be with might already be in your life, but you both need to grow before you recognize each other.
2005 – I told him I did a triathlon + he said, "How awesome, maybe I'll train with you if you do it again."
I knew I had found my match. I knew I could be all that I wanted to be + that he would only make me better. I still feel that way over a decade later.
We trained together + did the Malibu Triathlon together later that year.
10. Sometimes, the right person at the right time will just get you in the right way. The person, the time and the way will, most likely, not be up to you.
2007 – After dating for a year and a half, we got married on 7/14/07 and my late mother walked me down the aisle.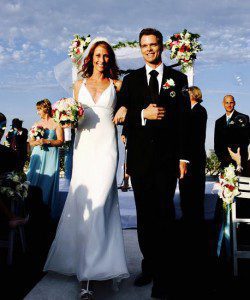 2023 – This past week we celebrated 16 years of marriage, two children and a life filled with love.
And yes, we help each other self-tape all the time.
See a fun behind-the-scenes peek of what self-taping with your spouse really looks like here.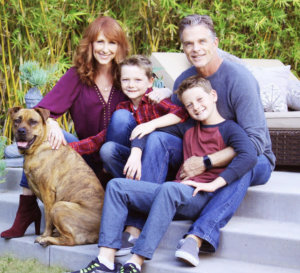 When I look back on this timeline, I think of all the times I never thought it would work out for me, and all the ways in which it was working out for me perfectly.
I will tell you though, that somewhere in that "year to myself," I learned to let go, to keep the faith, to get back to what brought me joy and to face what scared me most.
Funny how that is exactly when Josh re-entered my life.
So, no matter where you are on your life's journey right now, and no matter what it is that feels like a struggle to you…
Here are 3 Questions To Ask Yourself Today:
What if my timing is divine?
What if everything is unfolding exactly as it's meant to?
What if I started keeping the faith?
Ask yourself these questions + watch what blossoms.
When you begin to trust in the future you cannot see, while taking bold actions along the way that stretch you, your life rises up to meet you there.
Here's to knowing that life is giving you the exact lessons you need.
I love hearing from you! Leave a comment below + let me know which life lesson resonates with you the most right now.
Love + Gratitude,
– Wendy
P.S.  Need some help trusting in the future you cannot see?  Download your free "Warrior Manifesto."