I want to express a heartfelt THANK YOU for joining me in January as I shared my free masterclasses and all the exciting news about The Success Breakthrough Workshop.
Whether you were moved by what I shared in the free trainings or decided to dive deeper with me in the course, I am grateful for you.
Today, I want to share a simple message that, when you stop + take it in, will profoundly + instantly shift how you feel.
As actors + creative people, I know this to be true for many of us….
It's so easy to look ahead + wish we were further along.
It's so easy to let that job that you didn't book, even though you rocked the audition, get you down.
It's so easy to scroll through Instagram + see everyone's best version of their life + feel like you're missing out on something.
It's so easy to let negative thoughts run your day + effect how you treat others.
It's so easy to find fault within ourselves + those we love the most.
But today, I want you to pause. Today, I want you to take a moment and do this…..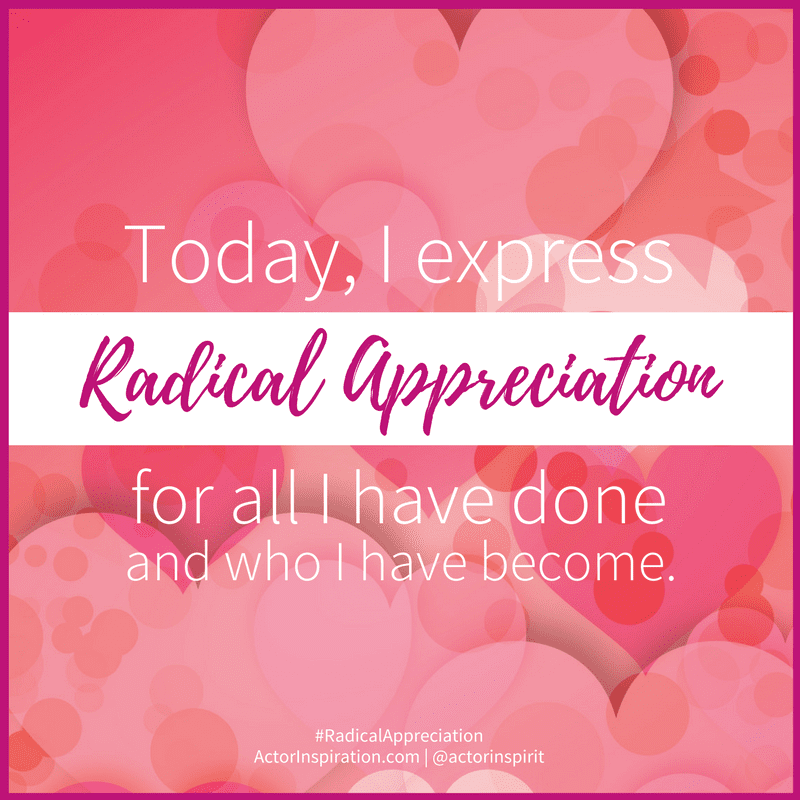 Yes, I want you to express radical appreciation for all you have done + who you have become.
Because when you look back and marvel at yourself + your life, moving forward becomes easier.
Because when you see each rejection as just part of the path to something even better, not getting the job becomes no big deal.
Because when you get excited for another's success, you are that much closer to aligning with your own.
Because when you choose a more positive thought, you light up in a different way.
Because when you look for things to appreciate in yourself + others, more things like it reveal themselves.
So, pause. Breathe. Put the phone down. And give thanks for your journey so far. No really. Do it right now.
"Today, I express radical appreciation for all I have done + who I have become."
You have no idea how close you are to so many wonderful experiences.
Radical appreciation will not only speed up the process, but it will also make getting to where you want to go way more fun.
Here's to a week of expressing radical appreciation.
Leave a comment below + let me know what you're appreciating in your life today!
I am appreciating you!
Love + Gratitude,
– Wendy
P.S. Want extra guidance and mindset tools to make radical appreciation a simple daily practice? Join me here.