I'm beyond thrilled to share some exciting news with you…
I am in the running for an Emmy® nomination for my work on Atypical (Netflix).
For Your Emmy® Consideration:
WENDY BRAUN
Outstanding Guest Actress In A Comedy Series
It's been so much fun to return to this amazing show each season + play a character who tries so hard to keep it all together, while things around her are falling apart (especially while getting my "jai-ho" on in a Bollywood dance workout).
Television Academy members can view the episode on the FYC site here: http://view.televisionacademy.com
Not an academy member? You can view it here + help spread the love: wendybraun.com/fyc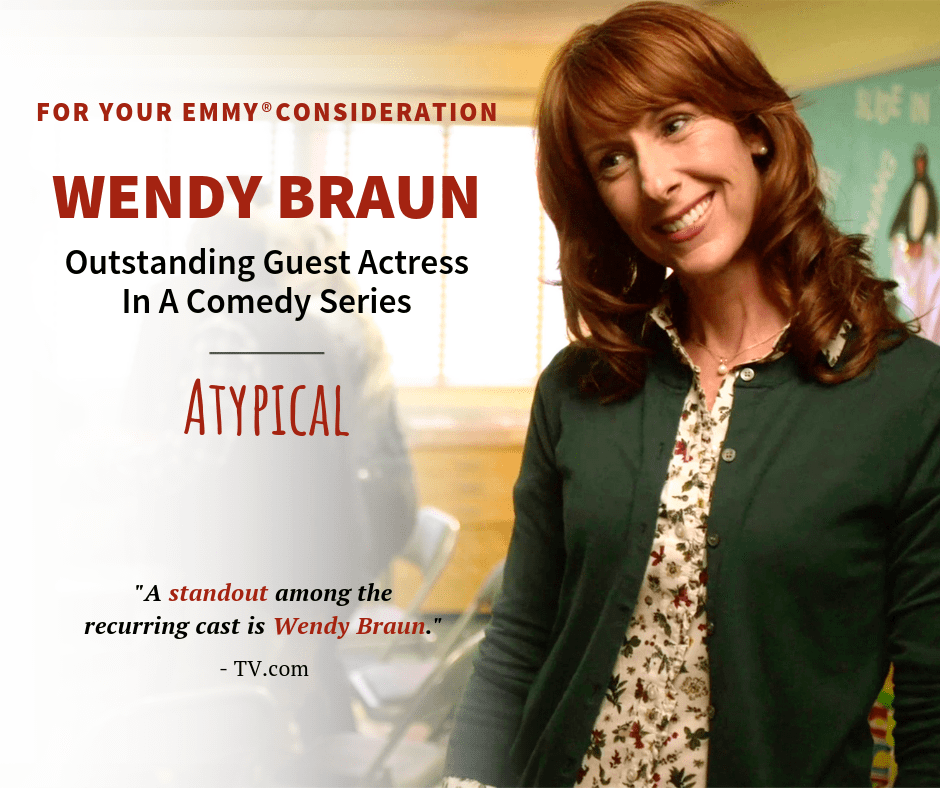 I am so grateful to be part of a show that celebrates inclusion and acceptance, proves that being normal is overrated, and continues the conversation to help break any stigma around autism.
I'd also like to say thank you for all the love + support.
I moved to Los Angeles, 5 days before the Northridge earthquake in 1994.
Immediately after it happened, my mom called and asked what I was going to do and if I was going to stay in LA or come back home to Chicago.
I told her it was 80 degrees outside (in January) and I was watching the pool shake at the apartment complex and…
I was staying.
What an amazing journey it has been through ups and downs, twists and turns, all while learning to embrace the my path, and enjoy the balance between career and family.
I know my late mother (and late father) would be proud.
While I'm in the midst of this "FYC Season" (For Your Consideration), I am reminded that awards and accolades are wonderful, but it's when someone comes up to me at an event and says "Thank you for you weekly newsletter" or "I listened to your audio before an audition today + it helped calm my nerves," or the lovely actress that showed me a "Wendy Folder" on her phone with all my newsletters saved there, these are the moments that mean the most.
To know that in the midst of my own journey, I am also helping other creatives stay inspired + uplifted, lights up my soul in ways I can't even explain.
So, sharing this exciting news here with you today, feels very special to me, whether you've read my blog for years or you just found me for the first time last week.  Thank you for being here.
I want you to know this today…
A "For Your Emmy® Consideration" moment like this, is literally the culmination of years (ok, decades) of mastering the fine art of dealing with failure, dusting myself off after rejection and deciding to begin again after each disappointment.  Over and over again.
(No matter what it all looks like on Instagram).
So don't measure what your life or career looks like today against any one else's.
You are exactly where you need to be (even on the days where you feel like you're doing everything right, but nothing is showing up for you).  Trust me, I've been there.
So today, why not choose to trust in the future you cannot see and believe that your big dreams are possible.
And if you do see me out + about at an FYC event, please introduce yourself.  There's nothing I love more than putting an #ActorInspiration face with a name, and knowing something I said, wrote or recorded has inspired you to keep going.
Watch the For Your Consideration clip here.
Leave a comment below, if you feel inspired + here's to a week of trusting + believing.
Love + Gratitude,
Wendy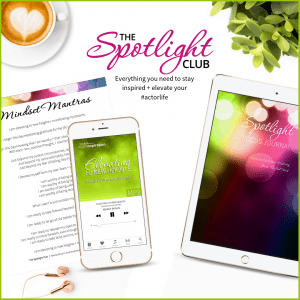 P.S.  My latest audio "
Expanding To New Heights: Manifesting Your Dreams
" was written with you in mind once I found out this exciting Emmy news.  It will help you to dream bigger, hold the vision of your desire + face any fears that might be blocking you.
It's one of many monthly gifts you get (including Facebook Live coaching) when you come join me in
The Spotlight Club.
 (It's Mindset, Meditation + Motivation made easy).  
Details here