Have you noticed, sometimes, that the harder you work, the tougher life often feels? (While others seem to float magically through life?)
Have you noticed that the more you push, make giant to-do lists + tell yourself you need to do everything at once, the more exhausted you feel?
Have you gotten so used to doing things this way, that you've even forgotten what brings you joy?
I know, because I operated like this for YEARS.
Yep. I used to be that actress who would never leave town (FOMO), was constantly working on improving my skills + definitely put "fun" last on my long list of "things to achieve this week."
And it's not to say, I'm against, working hard + mastering your craft. I still put my time in, but I just do it from a different place these days. A more aligned place. A place where I've first made joy + fun a priority. (Isn't that why we're all doing this?)
What I've noticed is that when you get back to what brings you joy, things start showing up more easily. People offer more assistance. And opportunities come when you least expect them.
When you're finding joy in your life, Universal forces begin to work in your favor.
So how do you get into a state of ease and flow in your life, and have everything fall into place?
Take time for what brings you joy. (Hint: It's kinda why we're all here.)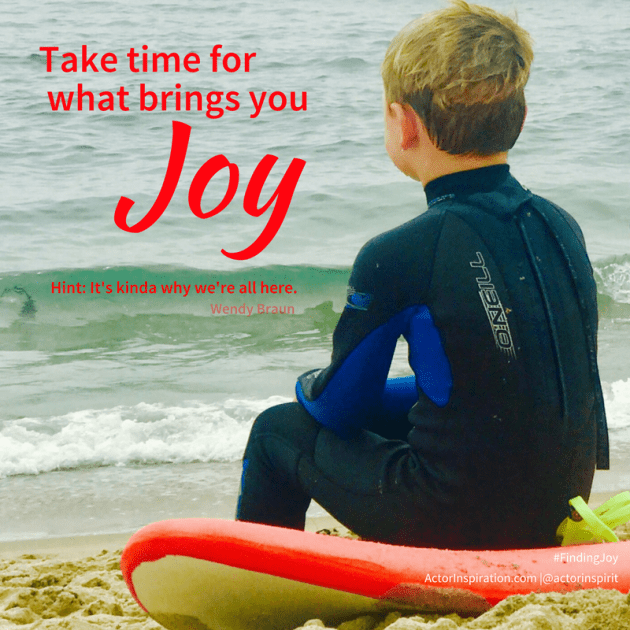 The achievement of anything that you desire must be considered success, whether it is a trophy or money or relationships or things. But if you will let your standard of success be your achievement of joy—everything else will fall easily into place. For in the finding of joy, you are finding vibrational alignment with the resources of the Universe. – Abraham-Hicks
I realized this week that I find as much joy in watching my kids surf at the beach, as I do having Broadway World do this lovely article on my about my recurring role on Netflix's new show, Atypical, as I do having a reunion with the amazing actors who've changed their lives + careers by taking my Success Breakthrough Workshop. (What an amazing week it has been!)
All of it brings me immense joy.
And on the days, where I slip into old patterns of thought + start focusing on what's "not working" (and I have plenty of those days too!), I remind myself that that at any moment, I can start finding joy whenever I chose. It's all a matter of where I put my focus.
So what will you do this week to start finding joy in your life?
Measure your success this week by how much joy you achieve. Not by the jobs you book or auditions you get.
Go swing on a swing, play with a child, marvel at the sunset.
Get back to finding your joy, then take action from your newly aligned place + I know success will find you.
Hearing from you makes my heart sing. Leave a comment below + let me know one thing you are going to do this week to get back to finding joy.
Love + Gratitude,
– Wendy
P.S. That's my son taking a surf break + me realizing he's really got it all figured out. (My children continue to be my best teachers.)