When I first moved to LA (5 days before the Northridge earthquake of '94), one of the first jobs I booked was a 3-month dance contract to perform in Monaco at The Monte Carlo Sporting Club.
In sharing my journey, I can't help but give you some gold nuggets of advice to inspire you along the way.  Enjoy.
Here are 11 Truths I Learned On My Journey From Dancer to Actress: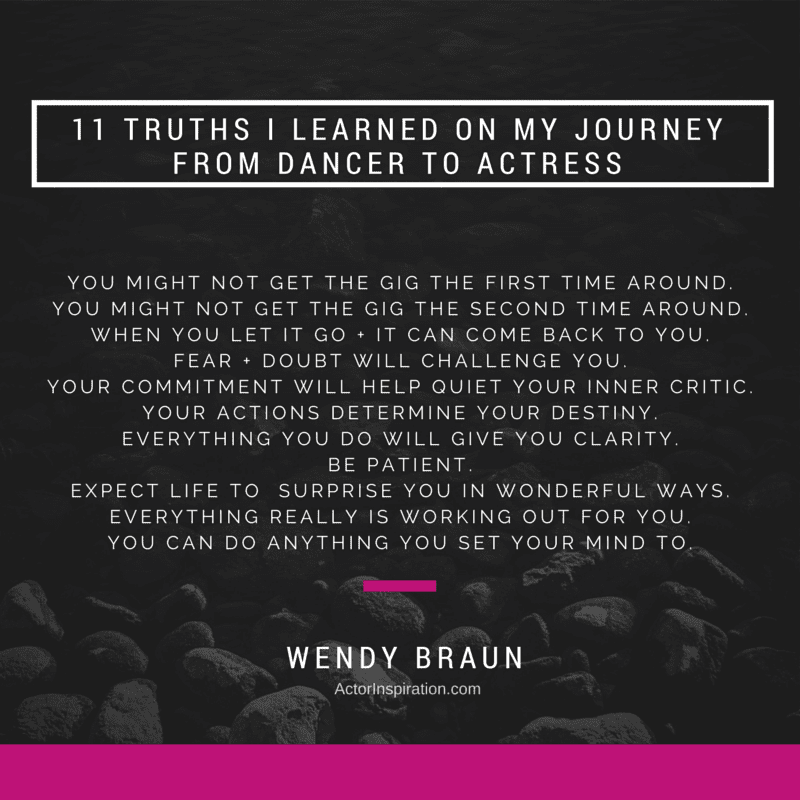 1) YOU MIGHT NOT GET THE GIG THE FIRST TIME AROUND.
I had auditioned for this same gig the year prior when I was back in Chicago + I didn't get it.  One year later, after intensely studying dance 5 days a week at Hubbard Street Dance Company in Chicago, interning at a casting office + taking acting classes at night, I was more seasoned, wiser + now perceived as an "LA dancer," since I was now living + auditioning in LA.
2) YOU MIGHT NOT GET THE GIG THE SECOND TIME AROUND.
Yep, I got turned down yet again.  Devastated.  I definitely had spent time thinking about this job.  I would fantasize what it would be like to spend the summer in Monte Carlo and perform under the stars.This gig was in the same theatre where the World Music Awards were held each year.  The roof would open up at the end of each show + fireworks would light up the sky like this:
3) WHEN YOU LET IT GO + IT CAN COME BACK TO YOU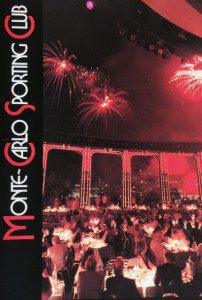 Eventually I let it go + moved on.  I must have really + truly detached from wanting  it, because it came back to me.  Three days into their rehearsals I got a call saying that someone got injured and I was their next choice.Next thing you know, I was flown to NY, going to a dance studio on Broadway to rehearse with NY + LA dancers + then off to Monaco!
4) FEAR + DOUBT WILL CHALLENGE YOU.
A lot of fear + doubt came up for me in the beginning – my inner critic would say:
"You didn't REALLY get this job, you're a back up"
"What if you can't pick up the choreography?"
"You're not good enough to be here"
5) YOUR COMMITMENT WILL HELP QUIET YOUR INNER CRITIC.
I found that my commitment to learning the dances helped to quiet the doubter within me +  the more I was in action, the easier I could move beyond my fears.  The job was a dream come true.  I spent the summer performing in a show every night, playing everything from a sexy senorita to a sword fighting pirate to a fairy-tale chipmunk. The audiences loved all of it and so did I.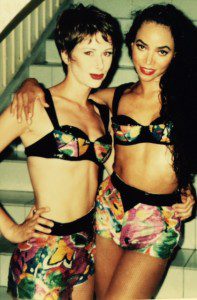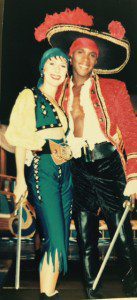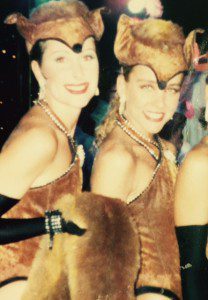 After every show, w'ed be invited to a cool club  +  dance until 4 am.  We'd then end up eating freshly baked croissants at a bakery that was just opening up at 5 am on our walks home to our apartments where every balcony overlooked the Mediterranean.
On the weekends we'd open up for amazing headliners like Stevie Wonder, Barry White, Earth Wind + Fire + Natalie Cole.  One of the dancers became our social chairman and our free time was spent on yachts going to Eze or St. Tropez or Cannes for the day.
6) YOUR ACTIONS DETERMINE YOUR DESTINY.
Prince Albert of Monaco was friends with our "social chairman" and invited a handful of us to go snorkeling out on his boat.  Somehow I ended up losing a snorkel of his in the water!  I was so embarrassed!   I ended up replacing it (even though I knew he could afford to buy a new one) and we became friends + even played in a softball charity event together.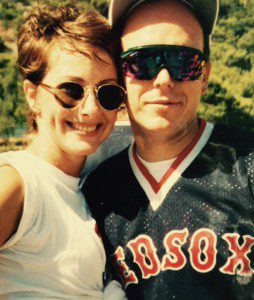 Throughout the summer, I remember hearing many of the NY dancers saying, "Well, I"m really  an actress in NY."  But they were the ones staying on for another 6-month contract in Monaco.  And I used to think silently to myslef, "No, you're a dancer in Monaco."  I realized in that moment if I really wanted to be an actress in LA, then dancing in Monaco year after year wasn't going to get me there.
7) EVERYTHING YOU DO WILL GIVE YOU CLARITY.
After an amazing summer in Monaco, knowing in my heart I wouldn't return to this gig ever again.  I wrote in my journal on the plane ride home that "I will return to the south of France as the lead in a film at the Cannes Film Festival."  I went back home + shifted my focus to acting.  Sure, I took a dance gig here + there to support myself (like being a Bowling Pin Chorine Dancer in "The Big Lebowski")
But I committed myself to studying acting with great teachers, studying improv at The Groundlings, getting on-set experience with student films + short films + just becoming more seasoned + wiser. I started booking small parts on TV shows, lots of commercials and indipendent films that ended up going to film festivals.
8) BE PATIENT.
Five years after my dancing days in Monaco, I returned to the South of France, as the lead in an independent film that was being premiered at the Film Market in Cannes.
9) EXPECT LIFE TO  SURPRISE YOU IN WONDERFUL WAYS.
I contacted Prince Albert, since we had stayed in touch, to see if he wanted to meet up while I was in town + he ended up escorting me to my premiere + driving my friend and I from Cannes to Monaco to say hi to some old friends.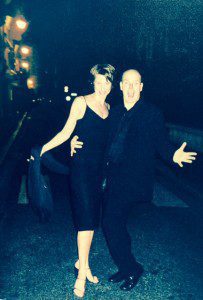 Returning there 5 years later was eye-opening.  Here I was, now "an actress in LA" who once coveted being a "dancer in Monaco.."  Little did I know that the other lead in that film, Josh Coxx, would one day become my husband.  But our first date wouldn't happen until 6 years after the film premiered in Cannes.  Little did I know, that 20 years later, I'd also still be getting a Christmas card from Albert.
10) EVERYTHING REALLY IS WORKING OUT FOR YOU.
So, my advice to you: trust in the path you are on + know it is here to give you more clarity.  As you discover what you do want, keep moving towards it, try not to take too much score, just find ways to keep moving beyond your fear + know that everything really is working out for you.   If you can picture yourself doing it, you can do it.  In fact….
11) YOU CAN DO ANYTHING YOU SET YOUR MIND TO.
Love + Gratitude,
~ Wendy Braun