This past week has brought me to my knees so many times.
In light of the current events around racism and social injustice, I want to lovingly remind you that everything I create (whether it's a program or a post) will always come from a space that stands for love, inclusion, diversity, unity, peace, compassion and acceptance.
And yet, I too, have so much more to learn on the topic of racism.
If you want to educate yourself and take action, but aren't sure where to begin, a friend shared this helpful guide: Anti-Racism Resource List Click Here To View.
I know that racism is taught.  I know that it begins in the home.
This past week, I watched my 8-year-old son prepare his speech for his online 3rd grade class.
In a sea of famous people – former Presidents, artists and musicians, scientists, and more – he chose Dr. Martin Luther King Jr.
I cried at his timely choice and that he made it all on his own.
I cried helping him find quotes and talking about what they meant.
I cried explaining to him why I was crying, and though progress was made back then, there's still so much more work to do.
I cried at the unity of 50 states and 18 countries coming together for one important cause.
I cried at the thought that his generation might actually experience (and become) the change that the world is asking for right now.
Change is upon us, and we are all feeling it.
Change is also messy, emotional, uncertain, painful + requires deep discomfort to really grow, learn and evolve.
So many feelings are coming up.  We are seeing this on a global level and we are feeling it on an individual level.
As artists, I know we are feeling it, because that's what we do. We feel. We empathize.  We emote.  We seek to understand the human condition.
But I also want to also remind you, that although we live in the digital age, you are not required to process your emotions in public.
Of course, I do hope you are taking time to process your emotions, release them in a way that is healthy and then do what feels best for you.
We all process things differently and we are all called to different actions that will drive us to different lanes.
Your lane might be writing.
Your lane might be donating.
Your lane might be protesting.
Your lane might be organizing.
Your lane might be volunteering.
Your lane might be painting a mural.
Your lane might be a dance or a song.
Your lane might be forwarding petitions.
Your lane might be talking to your children.
Your lane might be making a compelling video.
Your lane might be educating yourself in a new way.
Your lane might be tending to your own mental health.
Your lane might be doing what you can to stay sober today.
Some things to keep in mind:
1) Everyone's lane is different.
2) Your lane might change from day to day.
3) Don't feel guilty that you "should be" in all of the other lanes.  It's impossible.
4) Don't worry about directing the traffic in the other lanes.
If we want to bring compassion, acceptance + love into the world, we must begin with ourselves.  
So don't judge yourself for whatever lane you are riding in on any given day.
As you soften your own self-judgment, and then let go of judging others for what they are doing or not doing, you are actually helping create the change that we are all seeking.
Be a beacon of love + light in whatever lane is calling you right now, and know that it does have a ripple effect.
And as the late, great Dr. Martin Luther King Jr. said, "Darkness cannot drive out darkness, only light can do that.  Hate cannot drive out hate, only love can do that."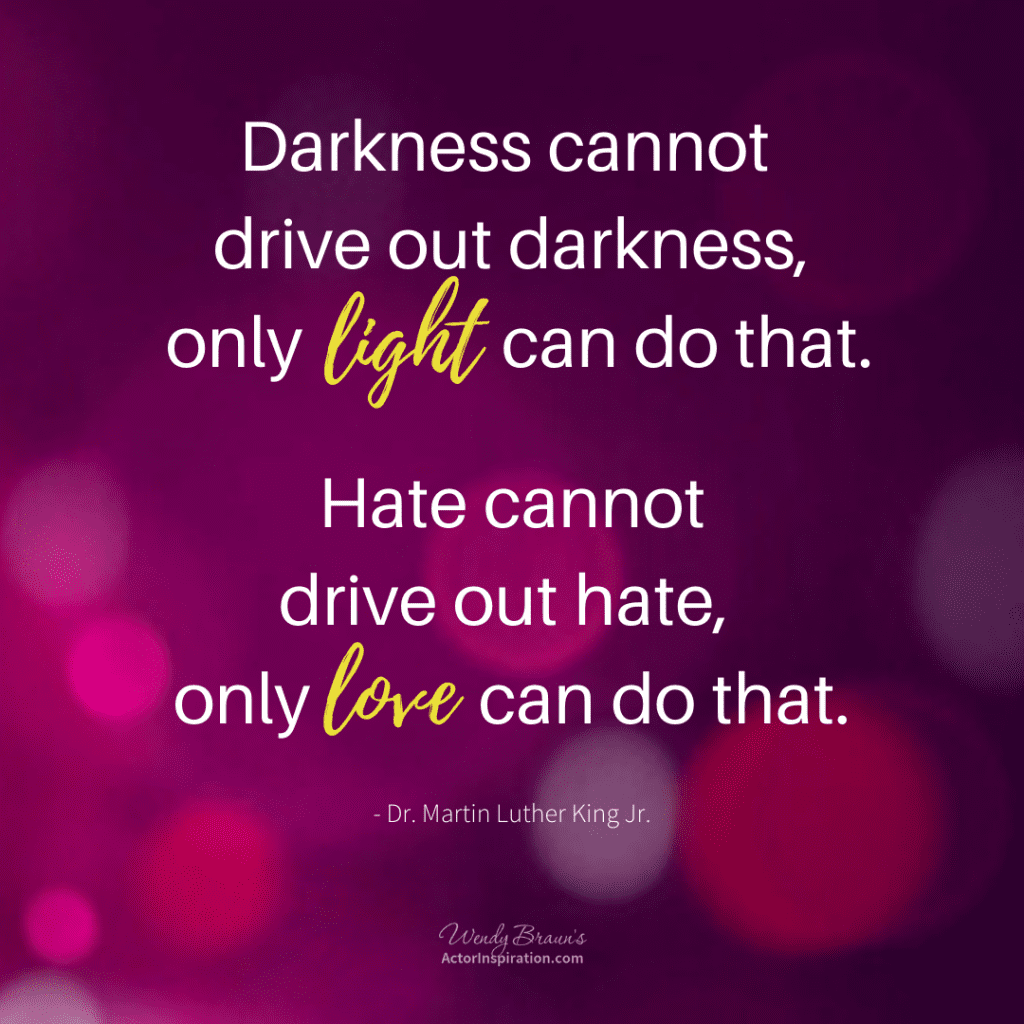 This goes for how you treat yourself and others.
Be kind to yourself this week.
Be kind to others who don't agree with you this week.

Take a breath before responding and reacting, and ask yourself: Am I being a beacon of light and love or am I spewing darkness and hate?
I know we all want more light and love in this world.
We must each embody it with our words, our thoughts and our actions.
Be kind.  Be the change.  Be a beacon of light + love.
And if it all feels like too much to handle right now, please do reach out and ask for help.
If you don't already have it, be sure to download my free guided meditation for "Easing Anxiety + Improving Well–Being" here.
I know it seems like things are falling apart, but beautiful change is upon us + the world is actually coming together in ways it has never done before.
Here's to a week of looking for all the signs.
Let me know in the comments below how you are feeling today + what you've learned this past week?
Love + Gratitude,
– Wendy
P.S. You may have seen the announcement from California Governor Gavin Newsome, that TV + Film production can restart as soon as June 12th. Are you ready mentally to get back into the game + compete at the highest level? Actors are loving this brand new guided meditation to help you create Self-Tape Success (+ The Mindset Of Booking).
In under 10 minutes, you'll be guided to let go of self-doubt + second guessing while also knowing exactly where to put your focus to give stand-out auditions (and feel more free than ever before – no matter how long you've been out of the loop).
Grab it as my gift to you (along other empowering monthly mindset tools) and set yourself up with ONE place to go for support, community and mentoring. Details here.