This week, Emmy-nomination round voting begins.
I'm so excited to share the news that I am up For Your Emmy® Consideration as "Outstanding Guest Actress In A Comedy Series" for my work on Atypical this season.
Today, I want to share the story of how I booked the role (that has led to three seasons of playing this hilarious character).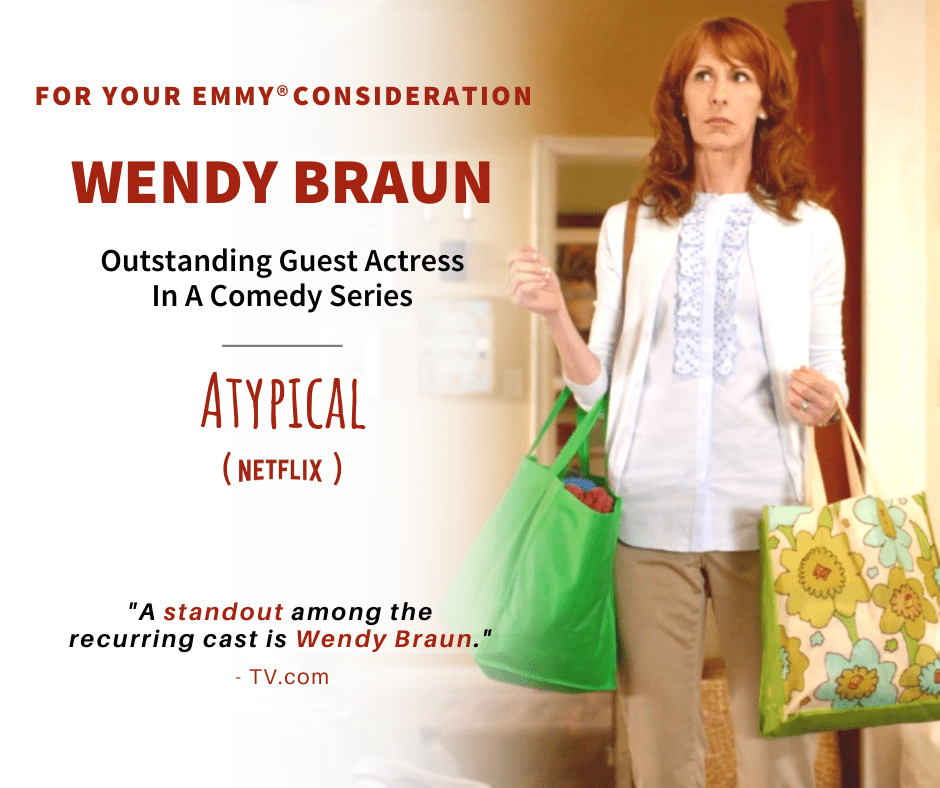 Three years ago, I went in for one audition for a "possible recurring role" on Atypical.
I remember vividly, sitting in the waiting room, filled with actors of all different types and ages. All reading for the same role.
I could have easily told myself that "they'd never cast me because I'm too ________ (young, old, tall, quirky, etc)." Or fill in the blank with whatever you tell yourself in these situations.
But instead, I chose to focus on simply bringing my truth into the room.
The character, Kathy, was described as "the uptight, but well-intentioned leader of the autism parent support group + a friend of Jennifer Jason Leigh's."
I found the place in me that understood what this meant. No judgment. Just truth.
My agent at the time was actually suggesting that I pass on the role because he thought it might not turn into anything + that it wasn't big enough.
But I felt connected to this character on so many levels, even though the scenes in Season 1 were short + sweet.
But the scenes were funny, Kathy had a strong point of view + I could see her becoming part of the fabric of this show.
I also had never been into this casting office, so I figured why not simply go in + do what I do + leave?
I'm glad I trusted my instincts.
You can quick view the clips here.
Television Academy Members can vote here. 
I hope my story inspires you to go into this week believing in yourself + knowing that anything is possible.
If I had told myself a different story in the waiting room, if I had listened to my agent who didn't think the role was big enough and if I had tried to figure out what "they" were looking for….it definitely wouldn't have helped me book the role.
It's not always easy to quiet the inner critic or other people's opinions, but you'll find that when you do, what's left is your intuition and it always knows the way.
When you treat each audition (or self-tape)  as an opportunity to share your truth + move on, you're no longer pushing, forcing or trying to "make something happen."
When you trust + let go, that's exactly when what you want finds its way to you.
Now when you see exciting news like this….you'll now know the story behind it all.
I hope you can use something I've shared from my journey to help you as you navigate yours.
Stay open. Stay humble. Stay curious. And when in doubt, trust in the future you cannot see.
I love hearing from you. Leave a comment below + share your biggest takeaway with me.
We really are all in this together. 
Thank you for being part of my #ActorInspiration community.  I am rooting for you.
Love + Gratitude,
– Wendy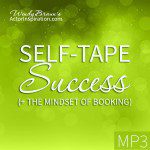 P.S. If you need some help trusting your instincts lately with auditions or self-tapes, download "Self-Tape Success + The Mindset Of Booking." 
(It's my gift to you in June (only 2 days left!)