I believe luck is preparation meeting opportunity.  I also believe that many opportunities are just around the corner for you.
So, I'd like to help you prepare like a pro, now (and give you a sneak peek at how I graciously grab moments on the set, so you can do the same).
A few months ago, I booked a great dramatic role in a feature film, off a self-tape.
Though I knew I couldn't share ANY of the details before the film was announced in the trades, I also knew that once it came out, I wanted to have plenty of pics and videos to share the journey from my self-tape to the booking, to the behind-the-scenes fun on set to the trades announcement.
I put it together in an Instagram reel like this….
Of course it's great to get hired, and yes, it's fun to do the job, but being savvy about promoting the project once it airs might not be second nature to you, so that's why I put this list together.
PLEASE NOTE: Most projects these days are top-secret, so I advise you to always ask permission and never post anything that reveals even the slightest detail about your booking until after its release date.
Here are 3 Behind-The-Scenes Tips For Capturing Moments On The Job:
1. Ask permission to record a boomerang (video or pic) during your wardrobe fitting.
The wardrobe fitting can be a great time to capture the first glimpse of your character coming to life.
Again, you always want to ask first, and mention, "I won't share this until the project is released (or until you get permission from production), but would you mind doing a quick Boomerang for me?"
Recording a Boomerang (that's an app) or photo or video, and save it.  This can add a fun behind-the-scenes element to promoting your project.
You can tell this is now a thing with me on just about every job I work on (whether in the wardrobe trailer, outside the studio, and stepping up to my own trailer).
It's also fun AND easy, and clearly I like to "dance it out"…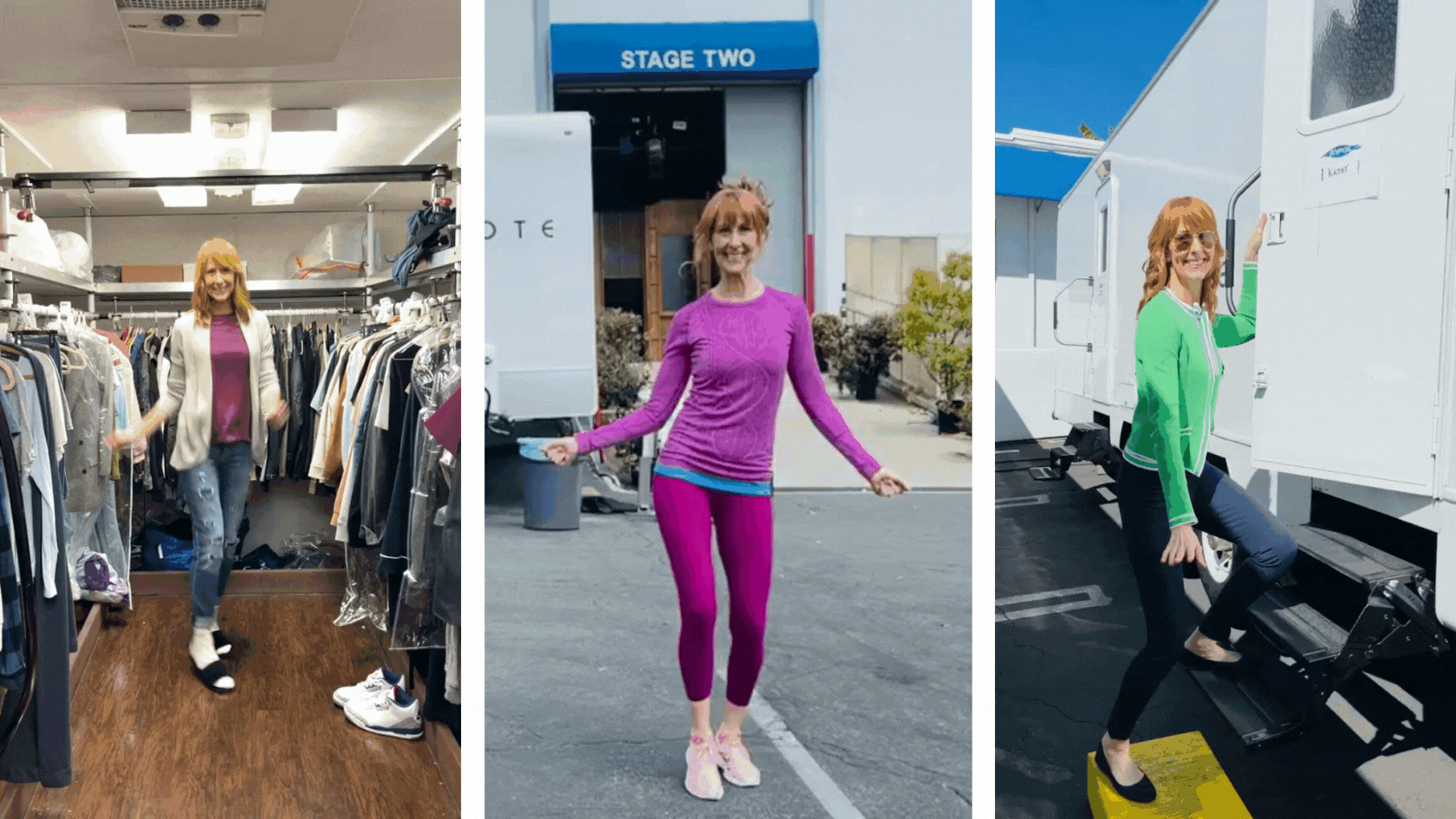 2. Do a time-lapse walk.
This is an easy and fun way to show what it looks like to film on location without giving away many details.  It's fast, it's fun + it gives a quick glimpse of life on set behind-the-scenes.  You just press "Time-Lapse" on your phone's camera and start walking.
3. Do an impromptu interview.
As you become more well-known as an actor, promoting a movie essentially becomes part of your job description when a project is released.
With social media as another form of promotion, having good behind-the-scenes content is not only a great way to highlight what you're working on, but you can also repurpose it for future #TBT (Throwback Thursday) posts as well, if there's someone you worked with behind the scenes, ask to do a quick interview of what they loved about working on the project.
You can literally say, "Hey, I won't share anything until this is released, but can we do a quick interview about what you enjoyed most about this project."
PRO TIP: As you make friends with the crew (and learn their names), you'd be amazed at how helpful they are when you need someone to take a quick picture or snag a boomerang in the wardrobe trailer.
The idea with all of these videos is to capture these moments while you are working so you have a variety of "behind-the-scenes" pics and videos to use to promote your appearance once the project airs.
IMPORTANT NOTE: Never give away wardrobe, script, cast list or any details about the show you are working on. Sometimes you can be discreet and show "that you're working" without giving away "on what."
Don't let this be you:  An actor friend of mine told me he's kicking himself because he didn't take one picture while he was shooting several episodes of high profile project and now he has absolutely nothing to use to promote his appearance on the show.

He said, "I either just forget while I'm on set or I don't really know what pics to take." I realized that he needed a media checklist + some guidance on how to get those important moments to share.
So I created The Working Actor's Media Checklist with photo ideas + video script prompts to help you make the most out of every project you book (and to take the guesswork out of figuring it out on your own). Download it for free here.
I hope this gives you a better idea of what you can do on your next booking.
Grab the checklist here, then leave a comment below and let me know which tip you'll be sure to add to your list!
See you on the set! (And when I do, I'll be happy to take your pic!).
Love + Gratitude,
Wendy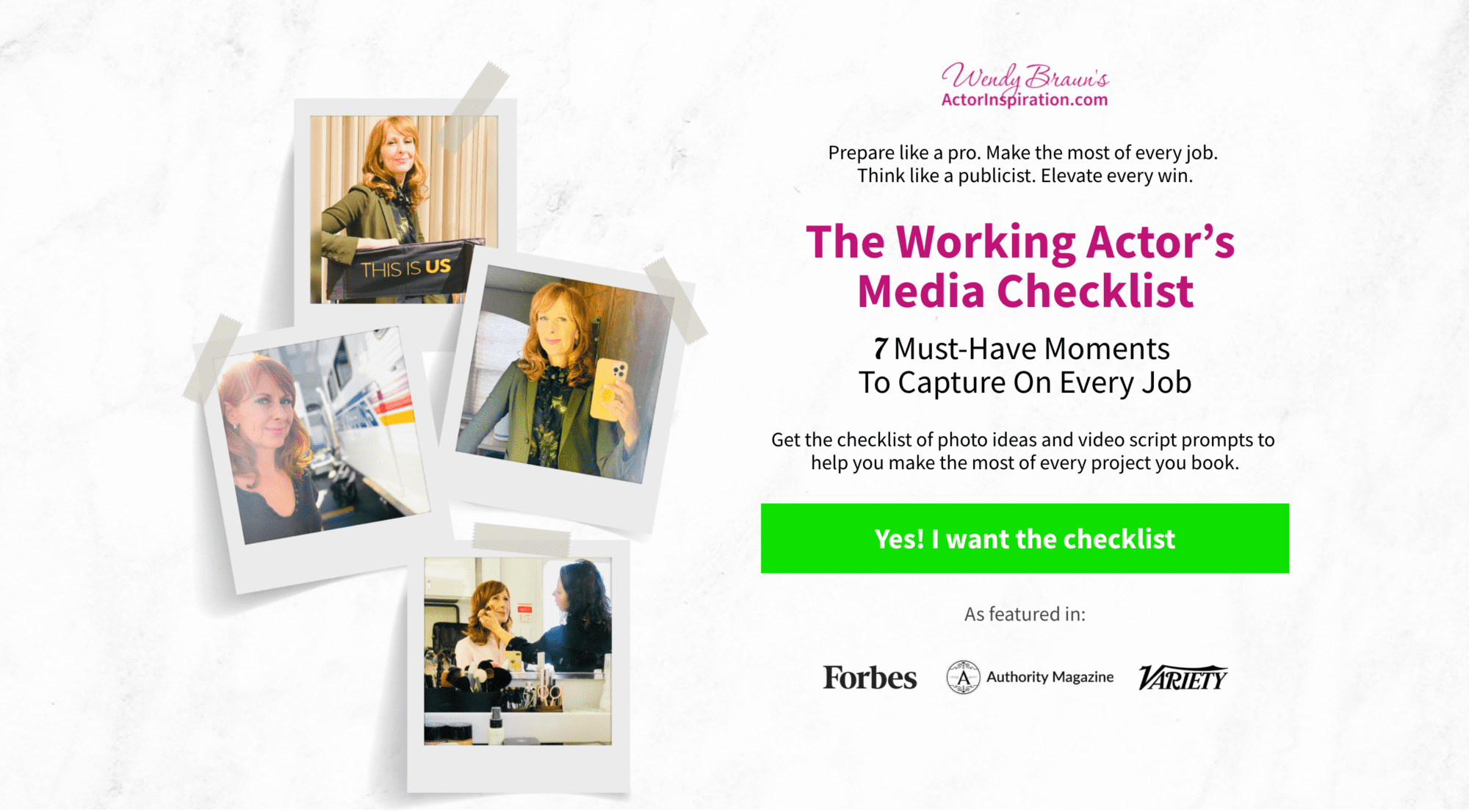 P.S. Want more booking insights?
Click here to learn 4 Things I Did To Book "This Is Us" (And How To Shine In Every Self-Tape).
Click here to see Behind-The-Scenes Of What It Really Takes To Get To Set On Time.
And if you want me to walk you through how I #PrepareLikeAPro?
Click here to learn my top 5 secrets for becoming a successful working actor, to help you rock your self-tapes, book more jobs + shine in every role.