Since so many actors were loving my tips on the exact photos to take while you're on the job…(and my personal examples from working recently on "This Is Us," I'm sharing some video ideas as well.
In case you missed it, check out my top 3 photo tips here:
3 Must-Have Moments To Capture On The Job (So You're Ready To Make The Most Of Every Win)
IMPORTANT NOTE: Yes, this is fun, but keep in mind, capturing behind-the-scenes photos and videos while you are working is not your main focus.
Of course, your work as an actor is the number one priority when you're hired on any job (and I suggest you always ask permission to capture anything on the set), but you also may have hours between scenes and recording a few short videos will give you content you can use to promote the project once it airs and even thank those who helped you get the job.
So here are my top 3 "behind-the-scenes" videos to capture on your next booking (and when to use them). 
The best place to shoot these videos is in your trailer, just outside your trailer or even walking to set (if you have permission). **
**If you sign an NDA (Non-Disclosure Agreement), you must obey those parameters.  And if you're not sure about something, always ask first.

Video 1:  I'm working on a top-secret project.
In this video, you can say a quick hello from your trailer, mention that you're working on a top-secret project and that's all you can say for now. You can also encourage viewers to follow your social media platforms for more upcoming details once the project is released.
IMPORTANT TIP: Keep in mind that you do not want to shoot this in your character's wardrobe.  Even the slightest clothing detail could give away the show, time period or storyline.  Also make sure there is nothing visible in the background such as the script, contract, call sheet etc. 
Video 2: I'm working on [NAME OF PROJECT].
You can shoot this before the project airs, but obviously, you will not share this until it's released.  Record this video in advance so when the project airs, you'll have a video where you share your excitement that you're working on XYZ project, playing XYZ character and the name of the network or movie studio releasing it.
IMPORTANT TIP:  If you want to add a "behind-the-scenes fun fact," as long as you don't share it before the project is revealed, you'll have a fun "insider" video to share when it does.
Video 3: I want to thank [choose one: Casting, Wardrobe, Producer, Director, Reps]
Take a moment to shoot a quick and sincere video thanking someone you worked with or someone who helped you get the job.  Give them a shout out "from your trailer" and let them know why you appreciate their support.
IMPORTANT TIP:  Don't share this video until your project airs, but when it does, be sure to tag who you thank on social media.
Check out my video example here on Twitter (go ahead and follow me while you're there). 😉  Now that so many CD's are working from home, this video turns into my own personalized digital thank you note. 
I shared it with no expectation, but when the amazing "This Is Us" casting director Josh Einsohn "liked it" the day I posted, it made my day to know he saw it and I could publicly thank him for this awesome win.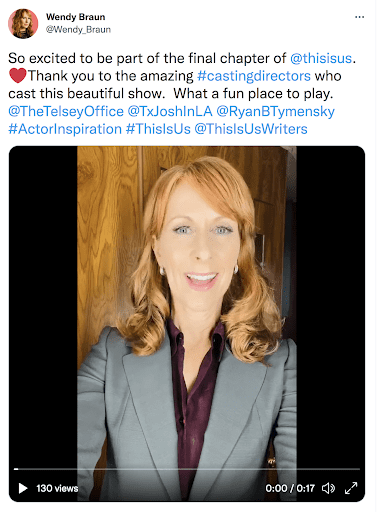 Use these three ideas on your next job and you will have recorded 3 different videos that you can use in different ways to promote the booking after it airs instead of wondering what the heck to post.
TO MAKE IT EASY: I've put together a free download for you called The Working Actor's Media Checklist.  It has fill-in-the-blank short video script prompts, so you have everything ready to go, all in one place.
Then, when you're on set, it's as easy to shoot as this: 
Wondering how you'll remember all of this on your next booking?
Get my personal video script prompts to use on every job.  It's all inside The Working Actor's Media Checklist.  Download it for free here + make the most of every win.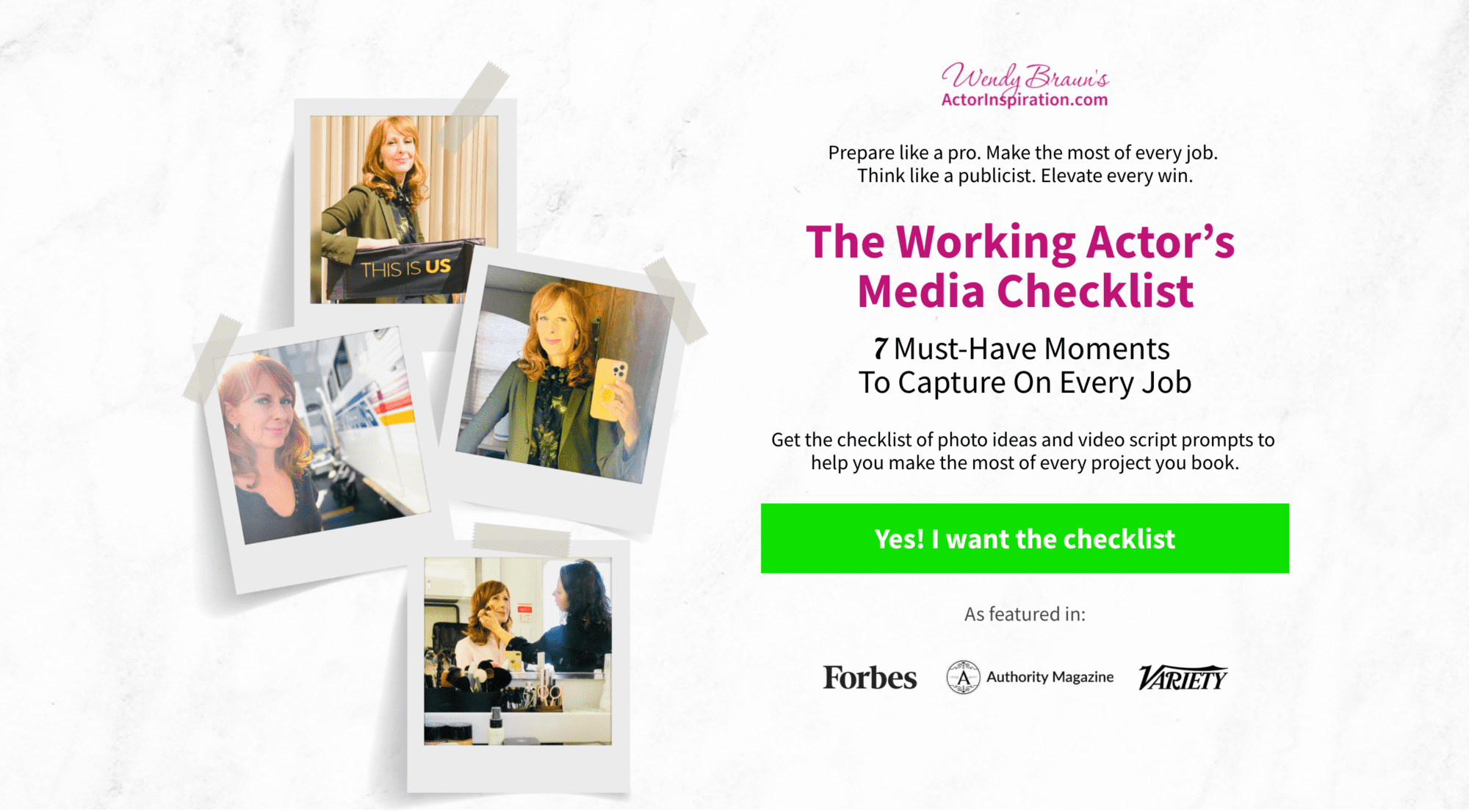 Along with the checklist, I also explain how to organize your photos and videos for each project, as your bookings increase. 
Did you find this helpful?
Leave a comment below + tell me which video tip you're adding to your list.
Then click here to download your copy of The Working Actor's Media Checklist.
See you on the set!
Wendy
P.S.  Want more booking insights + free resources to help you become a successful working actor?

1) Click here to learn 4 Things I Did To Book "This Is Us" (And How To Shine In Every Self-Tape).
2) If you're a parent, you know it takes a village to get to set sometimes. Enjoy this sneak peak: Behind-The-Scenes Of What It Really Takes To Get To Set On Time.
3)  if you want to learn how to really #PrepareLikeAPro?  Click here to learn my top 5 secrets for becoming a successful working actor, to help you rock your self-tapes, book more jobs + shine in every role.