I'm so excited to reveal the "behind-the-scenes" mindset, process and preparation that landed me a juicy role on the final season of "This Is Us," that I booked off a self-tape.

I play the poised but skeptical dance academy director Linda Darroe, who becomes an advocate of Beth (Susan Kelechi Watson), giving her an opportunity to invite untapped talent to be part of the City Ballet Of Philadelphia's scholarship program. 
You can read the full press release here.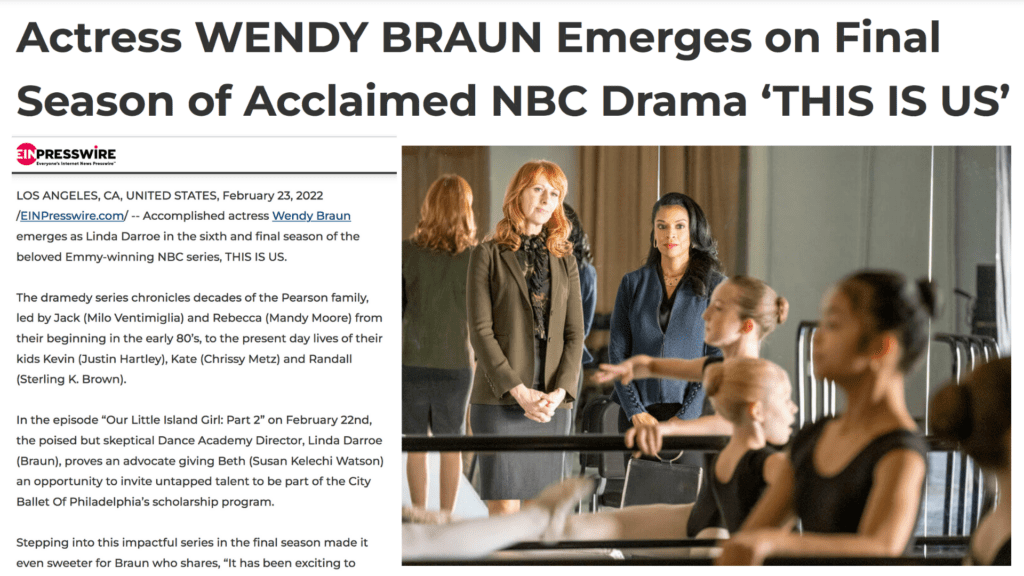 So how does this relate to you?   Well, maybe you have been working hard, turning in awesome self-tapes, and wondering "where's mine?"
Well, not only do I get it (I heard lots of "no"s, before this lovely "yes"), and  today, I'm breaking down exactly what I did to book the role, and the mindset behind each empowering perspective.
I've also included what to affirm for yourself, so you can adopt this new mindset today. 
I hope these simple shifts help you to rock every self-tape that comes your way. 
4 Things I Did To Book This Is Us (And How To Shine In Every Self-Tape)
1) I focused on the fun.
I clearly remember thinking, "I'm going to do this one for me, for the fun of it."  So I didn't go into my self-tape thinking "I need to book this job," or "What can I do differently to book this?"  I hope you can  clearly see what a difference it will make in all of your auditions if you truly can let go of "needing to book the job" and instead focus on the fun of having an opportunity to play and share your gifts.  It's a subtle shift that will make all the difference.

And yes, you may start "focusing on the fun" and still not book the job, but in the long run, the right roles will find their way to you, and you will have had a much happier journey getting to that point.
Affirm: I focus on the fun of doing my auditions. I am in the game.
2) I brought all of me to the role.
I remember reading the sides and seeing that this episode revolved around the dance world, one I knew very well.  I have a professional dance background and studied dance at The Hubbard Street Dance Company in Chicago when I was first starting out. So the dance world environment was easy for me to bring to life (even while self-taping in my garage).  I could see everything I was talking about so specifically and knowingly.

When you realize that your vast life experience can help shape your work as an actor, you start trusting that bringing all of you to each audition makes your work so much more specific. (Even if you don't get the job, you'll turn in a memorable performance). 
Affirm: I bring all of me to each role.  I trust that my vast life experience can help shape my work.
3) I let go of "showing" and focused on "being."
When the character description stated she was, "poised, elegant, and commanding," I knew I didn't have to "show" that I was any of those things.  Sure, I leaned in that direction with my hair, makeup and wardrobe, but I also know that when I walk into a room (or my self-tape studio), at 5'10" with a professional dance background, I already am these things, and I don't need to "show it."  (I do always wear the shoes of the character, as footwear will also inform your body language.  Don't skip that detail, just because the camera can't see it.  Shoes make a difference).

The trap is in thinking you have to somehow "show it," in an obvious and external way, instead of trusting that we get you, and you can simply "be it."  This is where you let it all go and trust that you are enough.
Affirm: I am enough. I don't have to show it.  I can simply be it.
4) I turned in my self-tape before the deadline.
I got the audition on a Wednesday at 8pm.  It was due on Friday at 9am.  I got it in on Thursday by 2pm.  I didn't do this in a rushed way, but I also knew that Friday morning, I'd have to get 2 kids to school and the sounds of leaf blowers in our neighborhood on Friday mornings are off the charts. So I moved things around in my schedule to make sure I could devote the time I needed to the script and the self-tape all by Thursday afternoon.

Don't wait until the last minute.  Have your equipment ready to go and reschedule things to make your acting work the priority.

Affirm: I make my acting work the priority.  I commit to turning in self-tapes before the deadline.
I hope this helps you trust that perhaps you are already doing all the right things, and it's just a matter of time or maybe you see where you are pushing, needing or showing, and now you can have more fun, trust and let go.
I'd love to hear in the comments below which one spoke to you the most and what you'll now affirm to yourself.
Love + Gratitude,
Wendy
P.S.. Download this free Self-Tape Success Checklist as your quick + easy guide to eliminate overwhelm + know the exact questions to ask yourself so you can deliver your best audition every single time. 
After you leave a comment below, if you want more of a sneak peek "behind-the-scenes," check out what it really takes to get to the set on time + 5 more tips to help you book more often.