Whether you've been part of this amazing community for years, or are just finding your way to me, I wanted to share a deeply personal story with you today.
Everything we go through in our childhood affects who we become, and I was thinking lately about "Why I do this?" 

Why do I help to uplift, empower + guide actors to create major breakthroughs in their careers and their personal lives?

Well, it all begins with my story of how I grew up…

When I was growing up, I was deeply ashamed of my childhood home.
My mother, though she was amazing in so many ways + supportive of my creative endeavors, was also a compulsive hoarder.
Click the video below, as I reveal what I learned from growing up with shame, anxiety + around mental illness.
And if you prefer to read the story as I tell it, here is the rest of the transcript that begins above…
Counters and table tops were always covered with stacks of newspapers, coupons, piles of unopened mail, broken pieces of things she was going to fix +  lists of things she was "going to get to." 
Some of the rooms were filled with piles of clothes, boxes lined some of the hallways, and anytime anyone would ring the doorbell, the anxiety level in our home skyrocketed.
Before opening the door, I would quickly run around the house opening and closing certain doors so the intruder (I mean, guest) would be blocked from seeing into certain rooms and noticing the mess.
My mother would then open the front door, as she and I would smile cheerfully, and then direct the guest down the hallway to the "safe" room, the one where you couldn't see the rest of the mess in the house.  (Yes, I learned to be a master pretender and master enabler, even though I had no idea what any of that meant at the time).
But keeping all of the proverbial plates spinning, while simultaneously helping to manage my mother's emotions, eventually taught me to put aside my own.
As I got older, I got even better at hiding the mess.  
Anytime one of my friends came to pick me up, I would promptly appear on our front porch, so no one had to come inside the house.  When they would drop me off, I'd create all sorts of new reasons as to why they couldn't come in.
Now, growing up I never used the words "shame or anxiety," (I actually thought I had a perfectly lovely childhood in the northern suburbs of Chicago, where all of the John Hughes movies were filmed) and no one in my family was labeling anything "mental illness," but looking back…
…shame, anxiety + mental illness were the unacknowledged elephants that occupied every room of my childhood home.
It made me long for things to be different + for my mother to clean up the mess.  In fact, whenever I was asked what I wanted for my birthday, my reply was always, "A clean house."
It's taken me years to unravel, understand + unpack it all, and even how my brother and father played their own part in this dysfunctional dance, though they responded differently than I did.  I was the overly empathetic and sensitive one, who internalized it all. 
And over time, I learned to dim my light…there just wasn't enough room for it. I now see why acting became such a wonderful escape for me.  
Even way back in the 7th grade (when I got cast as The Scarecrow in The Wiz), the allure of an empty stage, a blank canvas and the space to create and emote and shine through a character, saved my soul in so many ways.
For the last 3 decades, I've immersed myself in the study of human behavior, psychology, early childhood conditioning and how it all shapes who we become.
I became obsessed with studying + learning all of the ways in which fear holds us back, how we can overcome obstacles in our own life, what it really takes to create success + breakthroughs, and of course, how to find more happiness + fulfillment along the way.
I learned that clutter is just fear in manifested form.  And that we are each connected energetically to everything we own.
I've come to understand that it's often easier to bury our own fears and instead spend our days "doing" and tending to our "piles of stuff" (under the guise of being "busy") than it is to really pause, to look inward and to tend to the roots of our pain or addictions or mental illness.  For many, that's just too much upheaval.
But I've also seen it happen (with my amazing students all over the world), that when we are brave enough + willing enough to dive deep, to uncover our limiting beliefs + uproot our biggest fears, that we can radically transform ourselves, and embrace our biggest dreams through the process.
Most people don't want to look that deeply.  Some are scared of failure or change.  Others are scared of how successful they might become.
I get it.  I tried for so many years, in so many ways, to help my beloved mother.  (Sometimes those closest to us are the hardest to assist).
Her beautiful soul left the planet 10 years ago, and I have made peace with the fact that in this lifetime, perhaps she wasn't meant to "clean up the mess."
But it got me thinking about why I do what I do, and how at the deepest core of it all, it's because it truly makes my heart sing to help another creative warrior to let go of whatever "stuff" is holding them back + then live out their truest potential in this lifetime.
And maybe that's because I couldn't help my own mother do just that.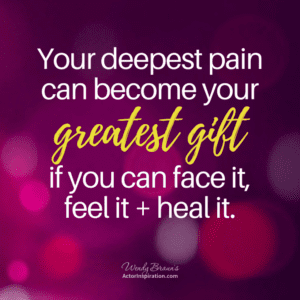 So after helping thousands of actors all over the world, for the last decade, here's what I know to be true.
All transformation begins deeply within.
If you can't look at it, you can't change it.
When you acknowledge and accept you can transform.
Fear is what holds everyone back.
The breakdown happens before the breakthrough.
You can only help someone who is open + willing to change.
I've learned that what we hide,
what we are most afraid others will see,
is actually what will connect us + unite us.

And yet, I debated about sharing this with you, even now.
But I hope this helps you today, to know that whatever shame or anxiety or fear or trauma you may have grown up with (or are still dealing with), that you are not alone.
In many ways, each actor I have helped, whether it is through my written words, my blog, my videos, my Guided Meditations, The Success Breakthrough Workshop or The Spotlight Club monthly membership, each of you is helping me to heal and piece together my own life's puzzle.
And I want you to know, not only has it been an honor, but serving you at the highest level, has become part of my life's mission.
We all have messes that we want to clean up.  Some of us might be more willing to look at them than others.  
But I will promise you, that when you peel back the layers of anything you've been going through, (as scary as it might feel in the moment) at the root of it all, at the core of who you are, there is only pure love + light.
I wish I could have led my own mother back to that knowing all those years ago, but instead, I will continue to charge forward, and be the light warrior that I have come here to be.
Remember that no matter what has happened before, no matter how this year has or hasn't been going for you and no matter what obstacles you may face, you have infinite potential + shining light within you, right in this very moment.
Even when you feel your light has been dimmed (by yourself or another…or even a pandemic or a strike).
So I share this today to simply say thank you. I have grown and learned and evolved so much from doing this work.
Thank you for allowing me to be a part of your glorious life.
Thank you for allowing me to inspire, uplift + empower you to be the best version of yourself.
Thank you for inviting me into your sacred home week after week, as each of us tend to our own personal "mess."
I am with you. And I am rooting for you + your ongoing transformation.
Leave a comment below, and let me know what you related to the most.  I truly love hearing from you.
Love + Gratitude,
Wendy 
P.S. Once a year, I guide actors through a powerful journey to radically transform their acting careers and their lives. Want to be the first to know about it?
Click here to join the VIP Waitlist.