The two biggest factors that keep you from your dreams might actually surprise you.
They are…needing + wanting.
The definitions of want + need actually imply a lack of something deemed necessary, and are at the opposite energetic spectrum of feeling fulfilled + satisfied.
So, it might be time to take a closer look at what you are "needing + wanting" and ask yourself "Why does this matter so much to me?"
If you want to get somewhere in your career because you need it to define:
your value
your worth
your importance
or that you "really matter…"
Then what you want will continue to elude you.  Why?
This kind of thinking actually puts you in a state of lack – needing some outer circumstance to give you the abundance you seek.
The reality is that it actually works the other way around.
Best selling author Abraham-Hicks states it so simply + yet profoundly with these seven words…..
"Until it doesn't matter, it can't be."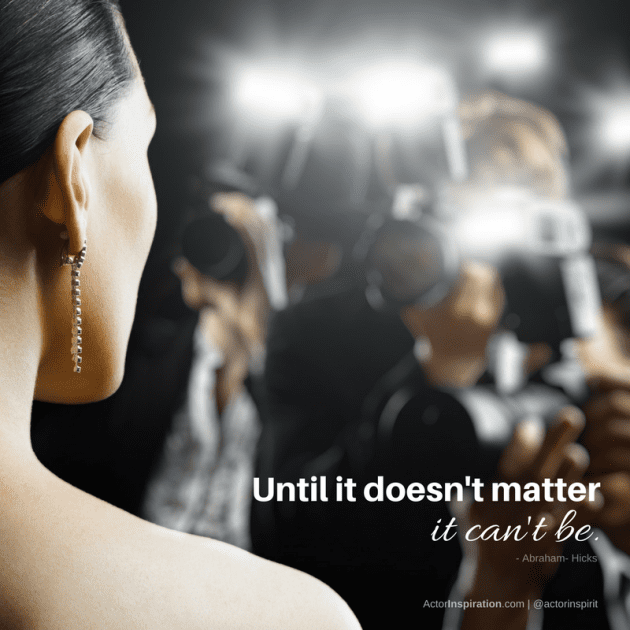 Did you really get that?Until it doesn't matter, it can't be.So in order to acquire anything in the physical world from booking a certain job, to obtaining a certain career status, to having photographers shout your name on the red carpet, you actually have to let go of "needing or wanting" it.It doesn't mean you give up your dreams.
You just give up needing a specific result to show up at a specific time.
You give up needing + wanting it to prove to yourself that you're worthy.
What if you started owning your worth,
realizing your value,
honoring your importance +
knowing that right now,
in this very moment,
you do really matter?
I'll tell you what will happen…you will start feeling unstoppable.
When you can begin to own your magnificence today + take actions from this newly inspired place, without needing some career goal to make you feel like you're valuable, things in your career will begin to shift.
The exciting thing is that you'll be feeling so good about yourself, while not needing one thing to change for you to own your true worth, and that seems to be exactly when everything changes.
"Until it doesn't matter, it can't be." 
So make whatever you've been giving so much importance to, just not matter this week.  Just for fun.

See how light you feel when you unhinge yourself from needing + wanting.
I have a feeling you'll start feeling unstoppable.
Leave a comment below + let me know what you're gonna make not matter this week?
I can't wait to hear what it is.
Love + Gratitude,
– Wendy
P.S.  Need help shifting "wanting + needing to book the job," into an empowering mindset that will help you shine in every self-tape in a whole new way?  Check out this free training + feel the shift in under 90 minutes.