After the last 2 years, there's not an actor on the planet who doesn't need a new breakthrough in their life or career.
That's why I've added TWO MORE FREE LIVE MASTERCLASSES this week.
Click here to save your seat + join me LIVE.
(It will fill up fast)
So you can do something for yourself (and your acting career) this week that will be "uplifting, a refreshing wake-up call + wash away your doubts" (as actors declared the live chat earlier this week)…
No matter where you're at in your acting career, you'll leave my LIVE class:
Feeling More Empowered
Feeling More Confident
Having Gained Clarity On What To Do Next
Ready to Make 2022 Your Best Year Yet
Maybe you are like Kate who copped out on her acting passion, until she joined me LIVE this week and said…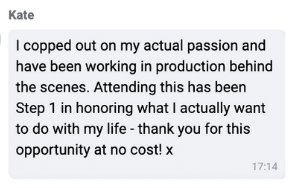 My goal is that you walk away from our time together feeling like this…
YEP! In less time than it takes to watch a movie, you can join me LIVE and learn:
⭐ How to get bigger results with far less effort.
⭐ A simple shift to release what's blocking you.
⭐ Why most actors don't succeed + how to beat the odds.
⭐ 4 key questions that lead you to ultimate success + happiness.
⭐ 6 words to help you reclaim your power instantly.
⭐ 5-step proven blueprint to creating your own success breakthroughs.
Click here to register + join me LIVE.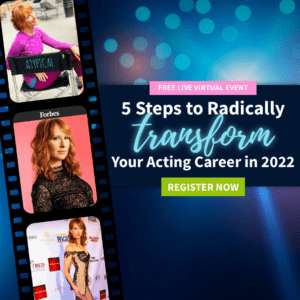 Can't wait to see you there!
Don't miss this jam-packed free LIVE Masterclass. It will be the best thing you do for your career all month.

And yes, I'm an open book sharing all I have learned on my journey with other actors.
Click here to register + join me LIVE.
– Wendy
P.S. The breakthroughs inside of 90 minutes, were off the charts…
Come join me + learn a feel-good approach where you let go of what's been blocking you in under 90 minutes.
It will fill up fast, so grab your seat here.