Booking off a self-tape.  Do you believe that can happen?

Or do you have thoughts like, "I'm better in the room" or "They'll never watch this anyway."

That's exactly what one of my students, Dominic Ryan, a London based actor, used to think too.  He told me this recently, "I was never a fan of self-tapes, as I felt my true personality never came across like it did in the room."

So what shifted for Dominic? I share it in a quick video here, as well as the exact tool he used (and how you can get it for free) to get in the zone, confidently prepare a self-tape audition in London + book a feature film…that shoots in Russia!
In fact, I'll send you this "secret self-tape audition weapon" for free when you register for my upcoming brand-new FREE LIVE masterclass happening this week!

Click here to register + I'll send you this special "self-tape success" gift.
When you join me in the free masterclass, I'll walk you through a simple process to help you uplevel your self-tapes, book more jobs + shine under pressure in the new normal.
It's nothing I've ever taught before + the free virtual masterclass is filling up fast.

Join me for 5 CORE SECRETS TO BECOMING A SUCCESSFUL WORKING ACTOR
Click Here To Register Now (before the free virtual seats are gone)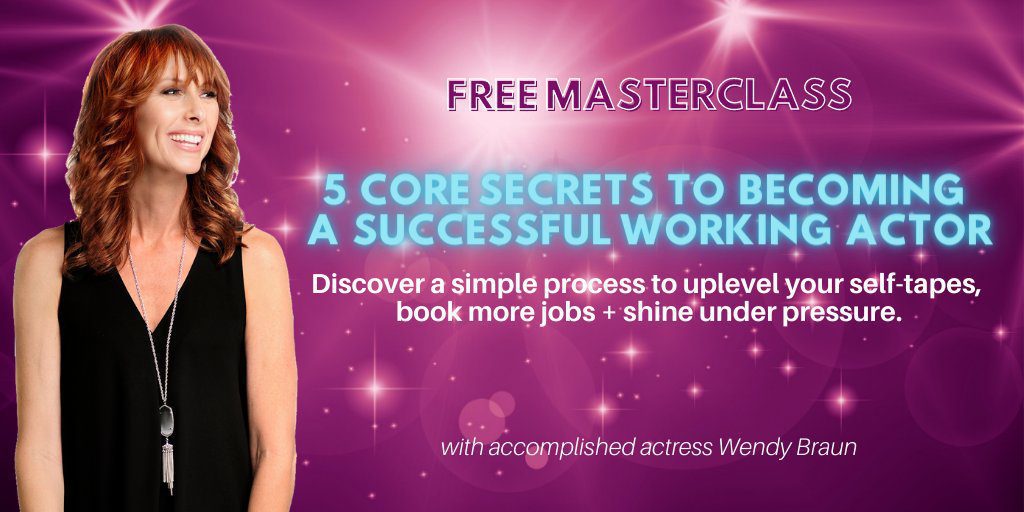 Then watch the video here + hear what Dominic did to rock his self-tape + book the job.
I know that actor's stress-levels are high right now (for so many reasons), and that's why I put together this free masterclass.

In under 90 minutes, I'll help you overcome blocks that have been keeping you overthinking, second-guessing + doubting your work, as you navigate the road ahead. 
Click Here To Register For The Free Masterclass Now
(It's almost at capacity)
Click Here To Download "Success In The Audition Room"
(or register for the masterclass above + I'll automatically send it to you!)

What I love as much as booking my own work, is helping other actors to shine their light brightly + soar to new levels in their careers.  
So, if you want self-tape success + more bookings, plan to join me for a mind-blowing free masterclass.

You'll  learn proven methods that have helped me make my living solely from acting for over 2 decades, that you can apply immediately in your self-tapes, virtual callbacks and even on the job. 

I'm so excited to connect LIVE (there's nothing like it!), and share these insights with you.

Due to the demand, spaces are limited. So grab your virtual seat here now.
Then leave a comment below  + let me know where you'll be tuning in from.
See you later this week!
Love + Gratitude,
Wendy 
P.S. If you do ONE thing for your career this week (that will also empower, uplift + inspire you) attend my Free Masterclass.  Virtual seats are filling up.  Register here now.