I did something that scared me last month + I can't stop thinking about it.
I did a free LIVE virtual training (perhaps you were there?), and I had to learn an entirely new software system to pull it off.
And yes, there was a lot of self-doubt + some serious ugly cry moments trying to quickly learn the new technology. Have you had those moments too lately? Maybe with all of the self-taping?
But what I also learned was that I didn't have to be perfect, I just had to be present. And guess what? It absolutely wasn't perfect, but I know that's also what made my live training so amazing.
To connect with each other in REAL TIME – LIVE was electric, and I'm still buzzing from it.
To realize I can show up for this amazing community of actors from all over the world, and be vulnerable and authentic is honestly what makes my heart sing.
(And let's not forget, vulnerability + authenticity is also what makes you a compelling actor).
I've also been hearing from actors everywhere that you've been feeling off your game lately, questioning your self-tape submissions and wondering how you'll deliver your best work on the job in our "new normal…(or all of the above),
I hear you + I decided to do something about it.
I just put together a BRAND-NEW FREE MASTERCLASS and am going to teach it to you LIVE in August.
I'm going to walk you through a simple + proven process to uplevel your self-tapes, book more jobs + shine under pressure.
Join me for 5 CORE SECRETS TO BECOMING A SUCCESSFUL WORKING ACTOR
Click Here To Register Now (virtual seats are limited + it will fill up fast)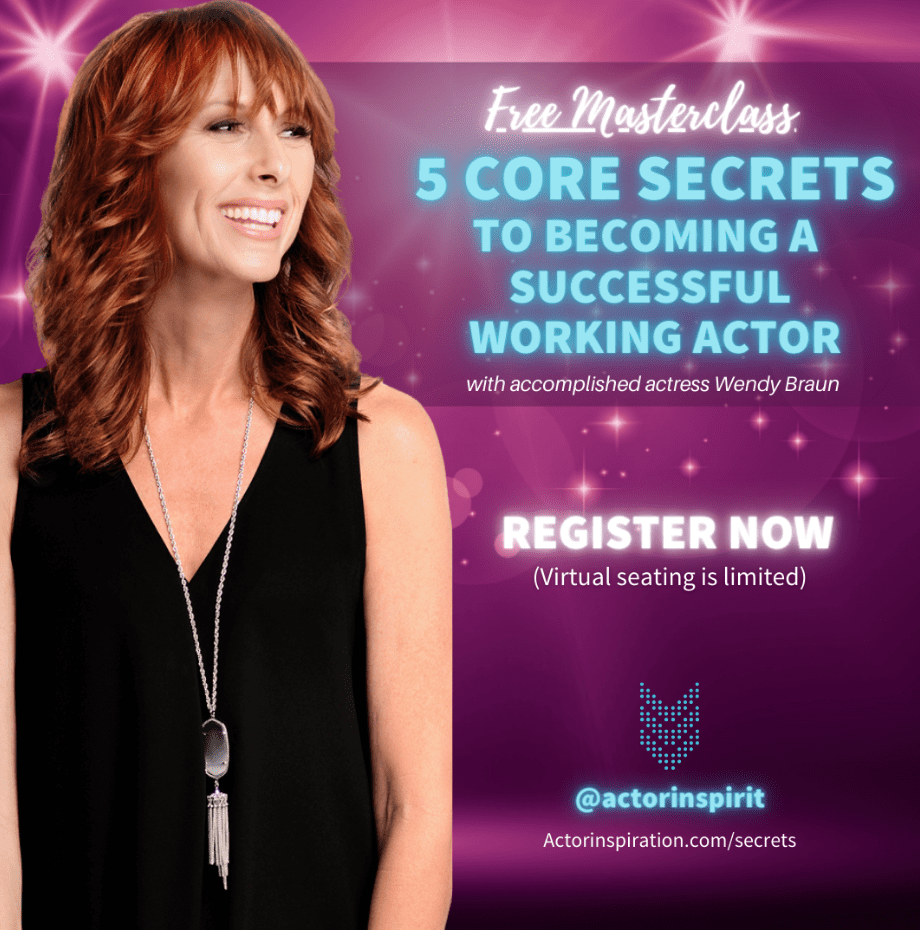 I can't wait to share my empowering methods + easy-to-implement tools that have helped countless actors (at every level + in every market) book more work in TV, Film, VO, Commercials, Theater. (yes, even in a global pandemic).
You'll walk away feeling empowered, encouraged + confident in your ability to navigate the road ahead, deliver your best auditions + bring your best self to the job. (Even when everyone around you is stressed out).
It coming up, so grab your spot here now – for free!
I'm excited to share insider secrets (pulled from my 20 years as a successful working actor in Hollywood) to help you alleviate anxiety, confidently deliver in high-stakes situations + be ready to succeed in the new normal.
I'm looking forward to connecting with you LIVE. Register here now.
Then, leave a comment here on the blog + let me know what's been challenging you in the world of self-tapes, and I'll address it in the free training.
Here's to a week of doing more of what scares you.
Love + Gratitude,
-Wendy
P.S. I was so moved by the beautiful response + heartfelt feedback that has been flowing my way from my last LIVE training….
"This was my very own Super Soul Sunday, Thank you Wendy for shining your light."
– Jennifer S.
"Wendy is the BEST! So positive and inspirational! I highly recommend it!"
– Elaine L.
"Thank you so much for your vulnerability and energy and wisdom Wendy!"
– Rachel P.
Click here to save your virtual seat now for my NEW FREE MASTERCLASS.