To manifest anything in your life + career, whether it is a relationship, a thing, an experience, or even a next level role, you must do this one thing first:
You must be able to imagine it.
Look around you right now.
Everything you see (even the phone or the computer that you are reading this on) first began as an idea in someone's imagination.
They didn't just think about it once and forget it. They gave their devoted attention to bringing their vision to life.
And it all began with the imagination (hint: this is the actors' greatest tool!).
Yet sometimes we can create a character more easily than we can create our own success.
But here's the good news:
"Your imagination is able to do all that you ask in proportion to the degree of your attention." – Dr. Wayne Dyer.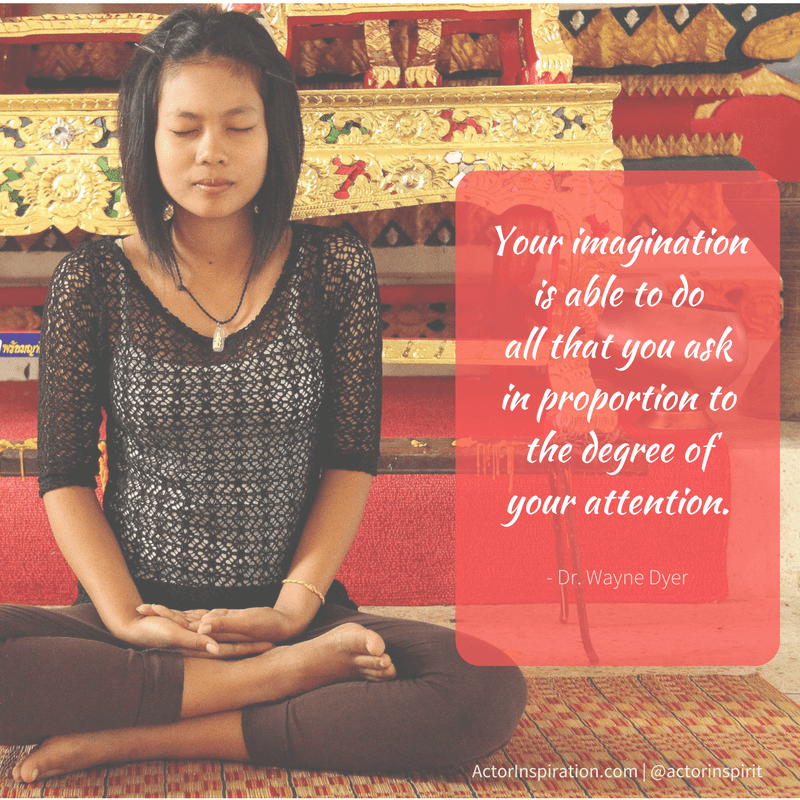 Here are 7 questions to discover what degree of attention you are giving to your desires…
1. Have I clearly + specifically defined what I want in all areas of my life?
2. Do I take time to visualize living these dreams in full + vivid color?
3. Can I feel what it will feel like to be there?
4. Am I taking action from this inspired place of certainty?
5. Am I learning from my mistakes?
6. Am I beginning again?
7. Am I doing this daily?
Dr. Wayne Dyer also stated: "Make your future dream a present fact by assuming the feeling of the wish fulfilled."
This is such a vital step in manifesting that many people miss. You must first imagine, but then step into feeling how it will actually feel.
When you take the time to create a clear vision of what you want, bask in that energy of how it feels + take inspired action, the Universe begins its co-creative dance.
When you can see it in your mind + feel it with all your senses, you can invite it into your life.
Here are some great mindset mantras for the week ahead that I hope help you to be intentional about where you are putting your attention:
What I think, I create.
What I feel, I attract.
What I imagine, I become.
I am a master manifestor.
Don't discount the power of your imagination and all it can create.
Here's to a week of imagining your life as you want it + turning your dreams into reality one day at a time.
Leave a comment below + let me know what dream you're imagining today and I will hold the vision of you there.
Love + Gratitude,
Wendy