I want to share my appreciation + heartfelt gratitude with you, my friend.
Because of you, I have learned that serving + helping others fuels my soul.
Because of you, I have learned that what you give out, comes back to you in wonderful ways.
Because of you….your courage, willingness, perseverance, tenacity, ambition, brilliance + resilience,
You are one of the few daring souls
brave enough to follow your dreams +
let your heart lead the way,
because you are willing to learn + grow,
to become conscious + mindful,
to get up after you've been knocked down,
to keep going even when you can't see the light,
to believe in yourself even when others don't,
to open yourself up to every facet of who you are,
and to ultimately live an artist's life…
Because of you, I am inspired, uplifted + empowered.
Because of you, I am deeply grateful.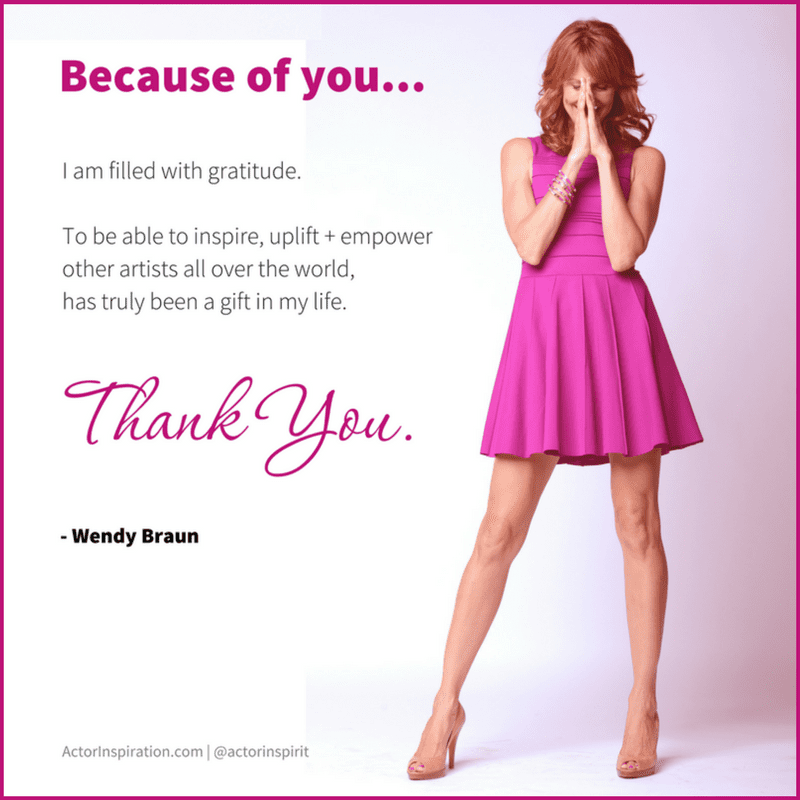 Thank you for allowing me to be part of your journey.
I have learned so much because of you.
I am better because of you.
I sincerely thank you from the bottom of my heart.
Keep shining your light, as only you can do.

Don't allow anyone at any holiday gathering to dim your light, and remember…
Anyone who asks you "How's your career going?"
is most likely enamored with your bravery.
Stand strong. Be proud of all you've done + who you've become.
And know that I appreciate you.  Happy Thanksgiving.
Feel free to leave a comment below + let me know what you are thankful for today.
Love + Gratitude,
– Wendy
P.S. Need some actor-specific tools to help you thrive through the holidays and create big breakthroughs in the coming year? Check out our biggest sale of the year going on now + enjoy up to 50% off the entire shop (no coupon code required).  Shop The Ultimate Gratitude Sale here.