I'm on a getaway with my family, snowboarding + sledding at Mammoth Mountain, and I'm about to head back to shoot another episode of Atypical this week.

Meanwhile, my Success Breakthrough Workshop students are continuing to thrive in their lives and careers, while my Spotlight Club members are loving the latest mindset tools I've created this month for elevating their perspective.
And all of it got me thinking about you and the abundant actor's mindset.  
It would seem like vacations and bookings and breakthroughs happen, and then you feel abundant…right? 
Well, it actually works the other way around.
The mindset work is the behind-the-scenes daily practice I've been doing for decades, even when I lived in an apartment right near the freeway and there wasn't a booking in sight.
It's woven into everything I teach, because I've seen firsthand how it's affected my own life + acting career, and how it's benefitted hundreds of actors in my programs.
So, where do you begin?  Well, there are 1440 minutes in every day.  
How are you spending most of them?

Are you looking for what's missing and commenting what isn't working?
Are you looking for things to appreciate and talking about what is working?
If your thoughts and conversations all center around lack and scarcity, then you'll have trouble aligning with prosperity.
So how do you let go of lack + tune into a more prosperous life? 
It all begins with your focus.
As you look for signs of prosperity, you'll begin to feel the energy of prosperity.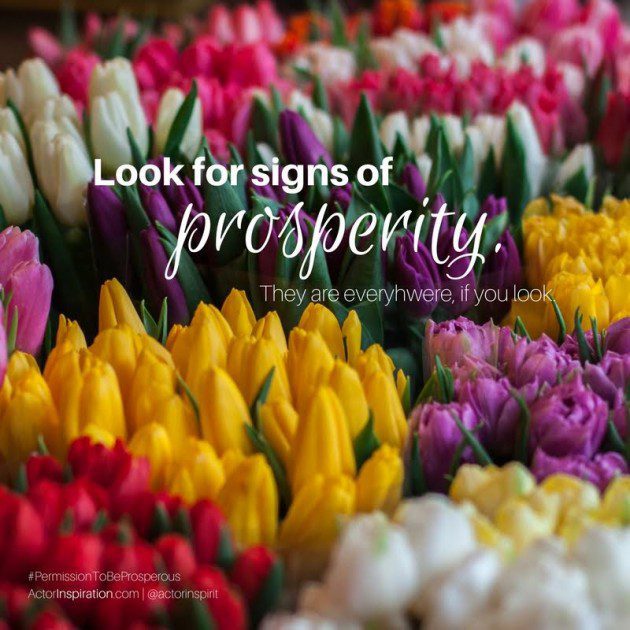 It may seem like "feeling" prosperous doesn't matter if there's not a ton of money in your bank account, but this where true prosperity begins.
To live a prosperous life,
you must become one with the energy of prosperity.
Unless you turn this common knowledge into a common daily practice, you won't see much shift in your abundance.
Here are 25 mindset mantras to help you begin to let go of lack + invite in prosperity.
Internalize each declaration + begin to feel your focus shift.
Today, I have 1440 opportunities to align my mind with abundance + prosperity.
I appreciate all I have done, and who I've become along the way.
My path is not set in stone, it is forever changing, and I direct my path through the thoughts I choose to think today.
As I begin this day in a state of appreciation, I am aligning with my own prosperity.
I have thousands of opportunities today to choose a new thought, to look for what is working, to envision the life I want to live + to move in the direction of it.
When I witness the success of another actor, I get excited to be crossing paths with prosperity. I let go of any resentment or competitive nature + choose to be fully happy. The happier I am for another, the more I am aligning with my own abundance. 
I know that a scarcity mindset creates limitations. So like the air I breathe, I know there is enough for everyone.
My prosperity doesn't create lack for anyone else. There is enough for us all: from resources, to love, to auditions, to relationships, to opportunities, to bookings.
Today, I take time to increase my value and what I have to offer by loving myself, taking care of myself, being proactive with my work + celebrating the victories along the way.
I learn something new today.
I do something that scares me today.
I am open, curious, optimistic and free.
I look for what is working in my life. (I let go of focusing on lack).
As I go about my day today, I seek to appreciate everything my eyes can see.

I notice new things today.
I notice new people,
I notice new opportunities that have been right in front of me.
I see prosperity everywhere I go today,
It is all around me. It is within me. All is well in my world.
As you continue to look for signs of prosperity, you will invite more prosperity into your experience. That is my wish for you.
Let me know in the comments below what "signs of prosperity" are in your life right now.
Hope this helps you to refocus your attention on your prosperous + abundant life.
Love + Gratitude,
Wendy
P.S.  The life you are living right now, is someone else's dream.  Take that in today + give thanks for the abundance that surrounds you.