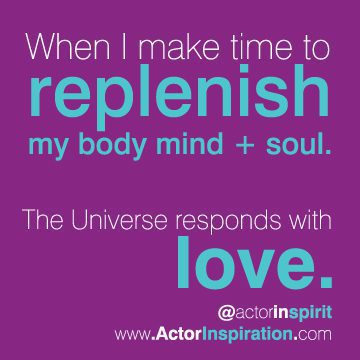 Do you ever find yourself running, doing + being so busy that you forget to take care of yourself?
Before I met my husband or had kids, I must confess, if I had a postcard mailing that needed to be done by a certain day, I would literally eat cookie dough for dinner + get back to work.
I had so much drive + ambition, that the idea of slowing down to take care of myself seemed counterproductive to whatever task needed to get done.  Ultimately, I was coming from a place of fear.  If I took a break or time for myself, I somehow thought my career wouldn't thrive.
Funny enough, the more I started slowing down in my life while dating my husband, and taking better care of myself, the better my career became.  I even started getting straight offers for great roles in great projects.
So, what did that show me?

The more I took time out to show myself pure love, the more valuable I started feeling, + the more the Universe responded with ease, flow + love: from bookings to marriage.
Try slowing down your life this week + replenishing your body, mind + soul with love + see what shifts in your world.
Sending love your way,
~ Wendy Braun
Morning Mindset Meditation
I make time to replenish my body, mind + soul…The Universe responds with love.
When I make an appointment with myself as important as my appointments with others, my body, mind + soul thrives.
I take a deep breath in + let go of any stress or worry that has been clouding my thoughts.
I exhale + see my body, mind and soul being filled up with love + light.
I now give myself all the love I need.
I take actions every day that show myself love from exercising, to eating well, to reading uplifting stories + surrounding myself with  positive people.
The more I love myself, the more love is mirrored back to me in unexpected wonderful ways.
I send my body, mind + soul loving messages as often as I can.
I find uplifting ways to keep myself going throughout the week.
What would it take, this week, for me to make time to replenish my body, mind + soul more than ever before?