Did you wake up today feeling love, appreciation, compassion and excitement?  Or are you waiting to hear "Booked It" to feel any of those emotions? Here's why that kind of thinking works against you and what you can do about it…right now.
Just so you know, I lived this way for years, riding the rollercoaster of emotions and allowing this business to dictate how I felt about myself, my value, my worth, my looks, my talent…all of it.  Sound familiar? 
So when you're working you feel great (for a while at least) and when you're not, you don't? 
As you well know, the life of an actor (even when you're at the top of your game) includes a lot of days where you're not working.
So, are you really going to spend all of that "in between time" feeling bad about yourself, your life and your career, waiting for the next job to lift you up again?  
My friend, you have it all backwards (and I did too).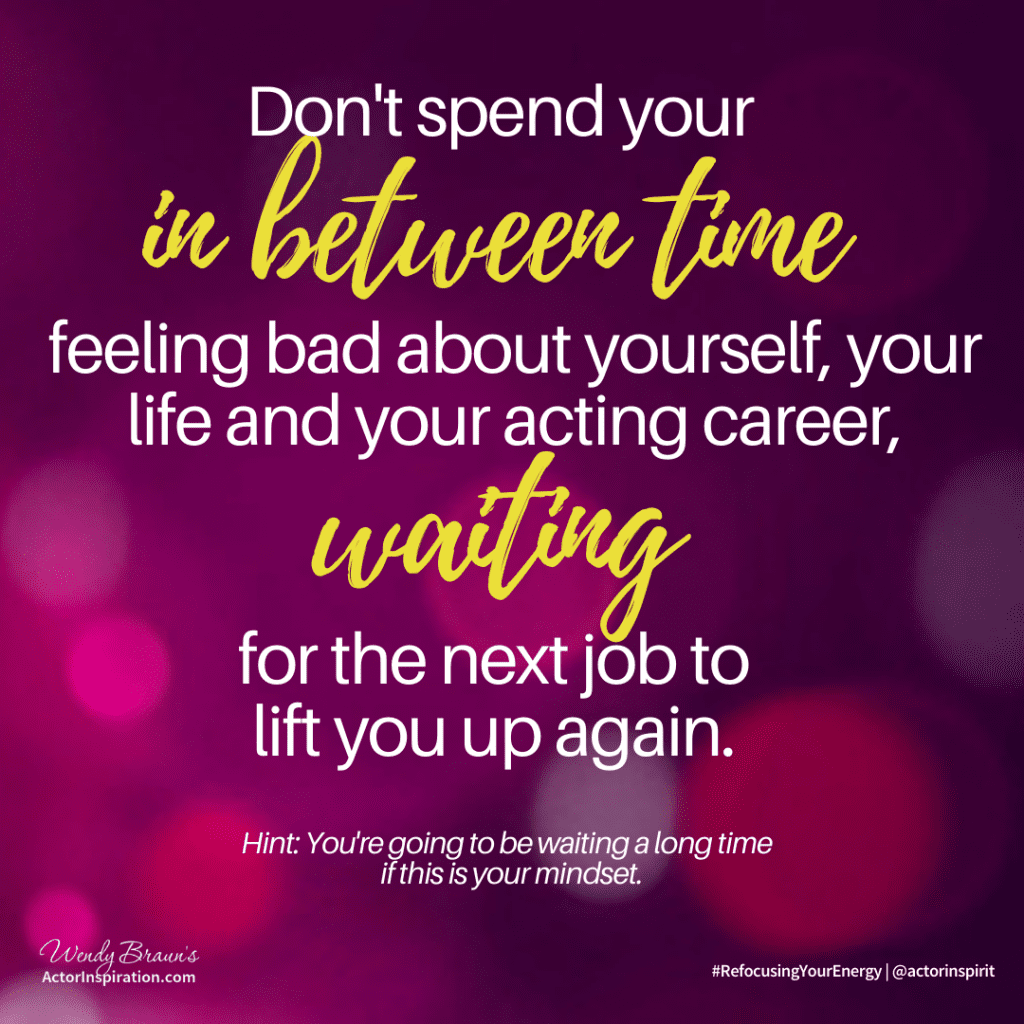 What if instead, you could reignite your confidence, release any thought or story that isn't serving your highest good and create a new reality?
How do you do that?  It begins with your own awareness, "I am having thoughts, but I am not my thoughts."
So just as we can wake up and worry, doubt, complain and blame, we can also choose to practice cultivating more heightened, elevated emotions.
As an actor, when you do a scene and you're required to feel love, appreciation, compassion or excitement, you can instantly create that emotional state, right?
Well, why then, are we not using all of the skills we have to bring a character to life, to elevate and illuminate our own lives?
Best selling author, Dr. Joe Dispenza states, "When people learn to change their emotional state + open their heart, they can change their life, heal their body + create a new reality."
Pause and do this with me now.  Put your hand on your heart and breathe deeply…
1) Feel the emotion of love, deep within your heart.  Whether you are envisioning someone you love and feeling love flow from you to them, or envisioning an experience, a memory that brings up love.
2) Feel the emotion of appreciation.  Whether it's because you appreciate your health, your life, your home, a person, a pet…whatever your focus, feel the feelings of appreciation and allow them to expand from within your heart.
3) Feel the emotion of deep compassion.  Whether it's for yourself in this moment, your journey, your resilience, your strength, your vision, your dedication, or the compassion you feel for another. 
4) Feel the emotion of excitement.  In your mind's eye, see yourself finding out an awesome piece of news that makes your day, week, or even year.  Bask in those feelings now, and feel the excitement you feel.  Allow yourself to smile, laugh, get teary eyed, say yes, whatever comes up as you feel the emotion of feeling excited.  Feel it in your body.  Go there with all your 5 senses.
Say YES! YES! YES!
How do you feel?  A bit better than when you first started reading this post?
You just shifted your focus from waiting for things to be different to feel different, to instead, creating your life from the inside out.
And the choice was all yours!  (As it is every single day).
Look, our egos may fight us tooth and nail in this process of "feeling good for no reason," but you are rewiring your brain to intentionally hop off the hamster wheel of thinking the same looping thoughts, feeling the same way and then defining yourself and your world from this memorized default emotional state.
Instead, you are tuning your awareness to elevating your emotions, opening your heart and refocusing your energy.
And when you make that your priority, what manifests in your life and career will shift.And you're going to have so much more joy, fun and fulfillment along the way.  (Which is what you wanted that booking for in the first place!).
Let me know in the comments below, which emotion was the easiest and which was the hardest for you to access?
Here's to feeling more love, appreciation, compassion + excitement, and not waiting for this business to bring it to you.
Love + Gratitude, 
Wendy
P.S.  I know doing this on your own, isn't always easy. 
If you're looking for added support, guidance + coaching to get out of difficult funk, like this London-based actress…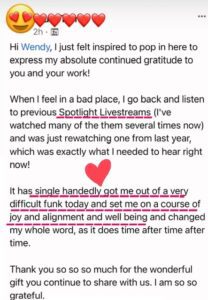 Click here to learn more about The Spotlight Club.
Actors rave, "Wendy's monthly tools help me to reset, calm and bat off monkeys, parrots and any other annoying high decibel (inner-critic) creatures – also just to "rest" and embrace the "I am enough" vibe too. Stunning."

Join The Spotlight Club + Global Community and get monthly mindset gifts (just for actors) and ongoing mentoring (to get you out of a funk AND help you keep your momentum going).  Get all the details (and see the monthly gifts included) here.