Tonite, nomination-round voting closes for the 2020 Emmy® Awards.
I am honored to be up For Your Emmy® Consideration as "Outstanding Guest Actress In A Comedy Series" for my work on Atypical this season.  What an amazing ride it has been doing this show.  Thank you for all of the shoutouts + sweet support.
You can view the clips or share the love here.
I know you're reading this blog because you want insights, inspiration + tangible tools to help you thrive daily in your life and acting career.
What I love (as much as reaching new milestones in my own career), is helping other actors to shine + succeed as well.
When I know that something I have learned on my own journey can help you skip years of struggle + frustration, I get excited to share it.
In fact, I have created a success mindset routine and daily practice, that has not only helped me make my living solely from acting for over 2 decades (including 80 IMDb credits, currently enjoying my 3rd year recurring on Atypical (Netflix) + the recent For Your Emmy® Consideration status), but it's also the same routine that has now helped countless actors build careers while navigating the ups + downs of actor life (yes, even amidst a global pandemic).
And I've decided to break down the exact method I've used to create momentum, map it out in a brand-new free training and teach it LIVE online + you're invited!
Join me for this special online event:
3 Keys To Creating Momentum
(How To Be Unstoppable + Thrive Through Uncertainty)
Click here to save your spot in the virtual classroom (space is limited).
If you've been feeling overwhelmed, distracted and letting the uncertainty (in the world or our industry) derail you lately, I get it.  
That's why I created this new free training, to show you exactly what to do daily to manage your sanity + become unshakeable, even in the current climate + conditions.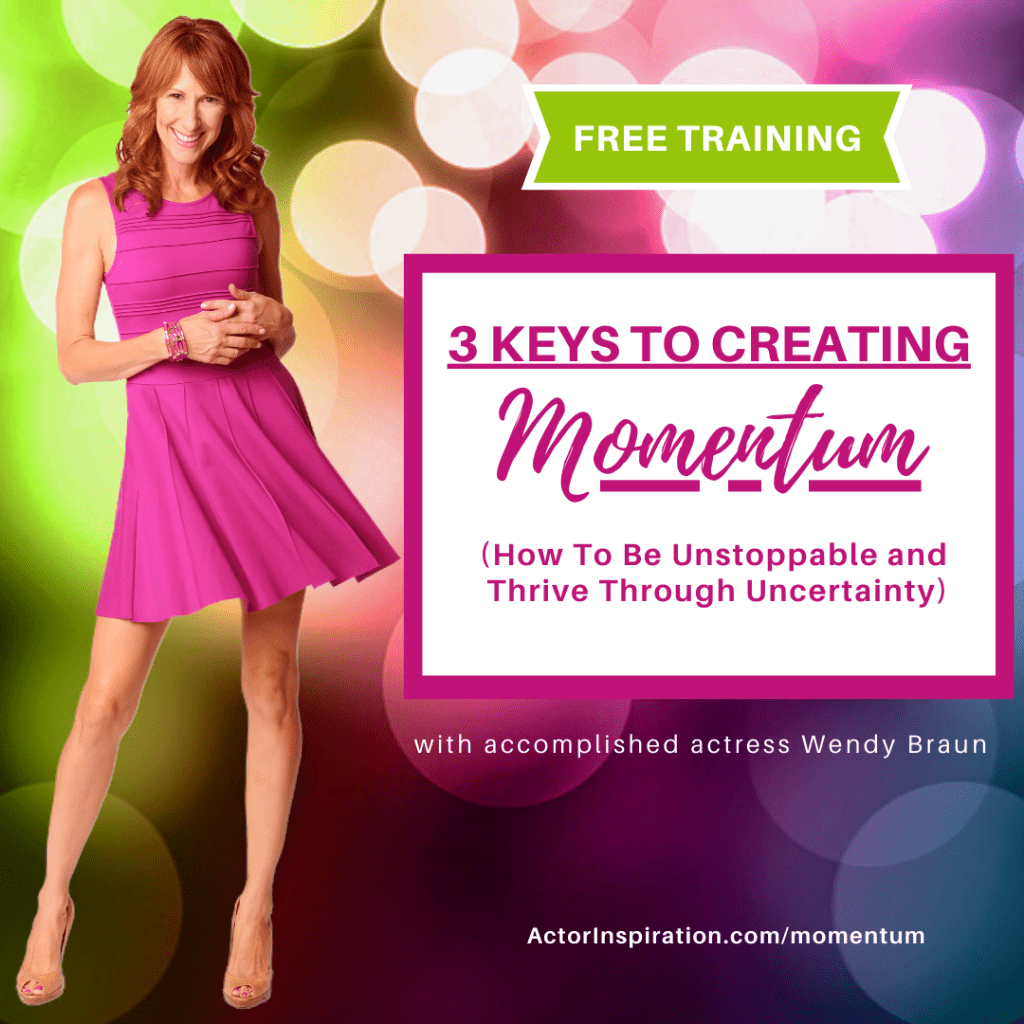 Here's a taste of what you will learn when you join me LIVE on this deep-dive online training:
⭐ Where the secret to your success is really found
⭐ 3 simple shifts for creating real momentum
⭐ 11 reasons you may get stuck
⭐ How to set yourself up to be unstoppable
⭐ Tangible tools for thriving through uncertainty
Click here to register now (space is limited).
You'll walk away from this free online event feeling empowered, uplifted and knowing exactly what to do daily to create more fulfillment, more joy AND book more jobs.
I value your time and the sacred space in your inbox, so save your spot here, pencil it in your calendar now, and join me LIVE!
Then, leave a comment here on the blog, and tell me where you've felt stuck lately + if you're ready to be unstoppable.
I can't wait to connect with you LIVE!
Love + Gratitude,
Wendy

P.S.  Are you in?  Join me live next weekend + learn simple but effective tools you can use immediately to get unstuck + become unstoppable (yes, even with all the uncertainty you're facing right now).  Click here to register for the free training.
P.P.S. I created a brand new guided meditation for July that actors are loving.  It's called "Daily Confidence."  It's my gift to you (along with other surprises), when you join me in The Spotlight Club.