Where is the secret to your success really found?
Best selling author + leadership expert John Maxwell states, "You will never change your life until you change something you do daily. The secret of your success is found in your daily routine." 
In other words, big results come from small, committed daily actions.
But what about right now, in the middle of a writer's strike, when everything feels…off?
Well, you're invited to a free virtual training, where I dive deep into this topic + share fresh perspectives, true stories, tangible tools and easy action steps that you can implement immediately (yes even right now, in the midst of the uncertainty in our industry).
Join me for free (from anywhere in the world) and learn:
3 Keys To Creating Momentum
(How To Be Unstoppable + Thrive Through Uncertainty)
Click here to watch the free masterclass.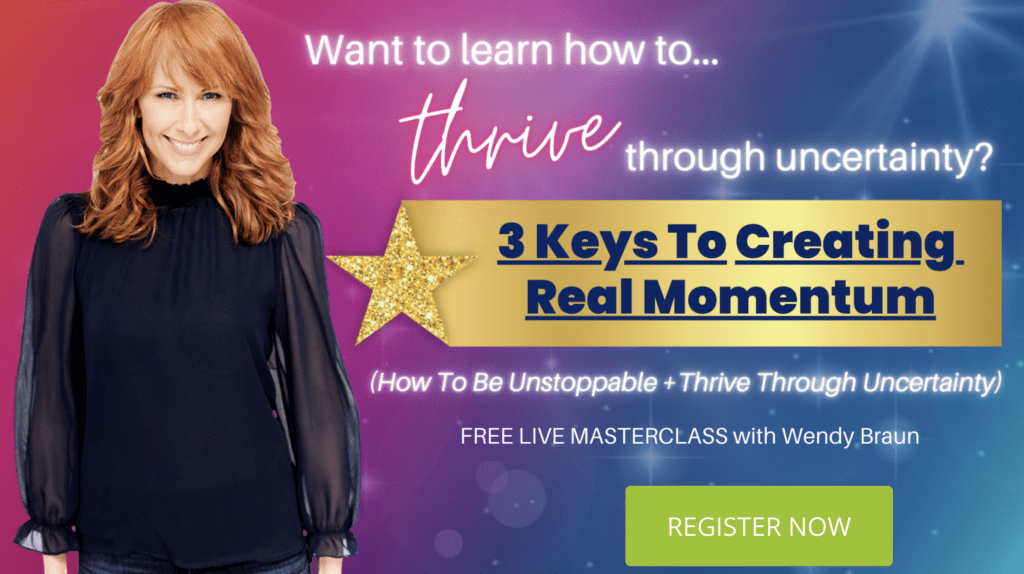 You'll learn how to set yourself up with a daily momentum mindset and learn how to manage your sanity on this roller-coaster ride of being an actor in the middle of a writer's strike (or anytime, really)!
Click the video below to learn more….
Click here to watch the free masterclass.
Look, I know how easy it is to feel great one day and then horrible the next.
I know what it's like to want to be productive to slip backwards….and feel like you're not making any progress.  I get it.

I know what it's like to be feeling good + then life happens…
You wake up + lack direction.
You feel disconnected + isolated.
Your daily practices fall away.
You get overwhelmed by the news.
You get distracted by what everyone else is doing.
You find that…
You lose your focus.
You don't shift how you feel.
You stop taking inspired actions.
And, I know how hard it is to motivate yourself ON YOUR OWN.
That's exactly why I created this brand-new (and timely) training, so I could help actors to get unstuck, to feel good again + to thrive through the rest of the year and beyond.
Click here to watch the free masterclass.
I'll be walking you through the 3 keys to creating momentum (and how you can commit to this daily, no matter what is going on in the world or the industry).
Attending LIVE will not only help jumpstart your new momentum mindset, but you'll leave this special training feeling empowered, uplifted + with easy-to-implement tools + action steps for moving forward.
Click here to watch the free masterclass.
I can't wait to connect with you live.
Then leave a comment below + let me know you're committed to joining me.
Take this one action today + I will help guide you to bigger results.
Here's to your success,
Love + Gratitude,
-Wendy
P.S. I've put together an extra free gift for those who attend the free training to help you reclaim your power, let go of self-doubt + feel unstoppable

Click here to watch the free class and you'll be one step closer to your success.