I'm keeping it short and sweet today, as I'm off on another trip with my family.
My mantra lately has been: I'll never regret that I went on too many vacations (especially while my young boys still want to hang out with me).
But as we approach the last 3 months of the year (where did the time go?!), I hope you'll schedule in some quiet time for yourself.
I used to feel guilty about doing "nothing," much less taking more than one vacation a year! (I had tons of actor-FOMO)
I used to go-go-go 24/7, often feeling overwhelmed by all I was doing and even resentful of those who were taking a break. (I'm sure I was just jealous that they knew how to!)
But now I've learned that, when you can find stillness, you ignite the fuel to recharge your batteries, restore your sanity, and even reignite your creativity.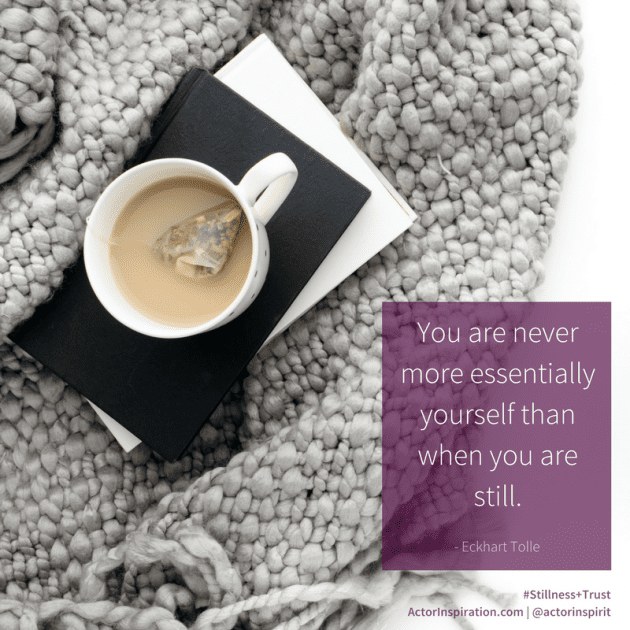 So I'm here to encourage you to sleep in, go for a walk, grab some tea or a cozy blanket and write in a journal, read a good book or listen to a guided meditation.
Eckhart Tolle says, "You are never more essentially yourself than when you are still."
Do whatever you need to do to create stillness for yourself in these busy (and sometimes chaotic) times.
Do it daily.
Your phone, texts, Instagram Stories and the all other distractions can wait. (I know, I'm addicted too!)
Go ahead + take a break from it all. See how long you can do so.
You may just find, that not only do you crave the silence, but that in the process, you start trusting in your path + letting go of how your ego thinks it all should go.
And the ideas + inspiration that flow from that new place, will most likely knock your socks (and cozy blanket) off.
That is my wish for you.
Leave a comment below + let me know what stillness practice you are committing to this week?
Have a wonderful week ahead!
Love + Gratitude,
Wendy