Two weeks ago, my in-laws came to town from New York for a wonderful visit. It was idyllic, actually.
We ate brunch at Paradise Cove and relaxed on the beach in Malibu, while they enjoyed watching our kids surf.
We had long + lovely outdoor dinner conversations in our backyard, as the kids laughed and played in the pool.
They sat in our soothing spa, soaked up the sun while napping on the lounge chairs, and then took the kids to Toys R Us for a special shopping spree – grandparent style.
My mother-in-law said so many times what a perfect weekend it was, and thanked me for the blessing I have been in her son's life.
She even told me that she looked at a picture of my own late mother on our bookshelf, and thanked her for bringing me into the world.
I know it was a soul to soul moment, where they connected, mother to mother, feeling the gratitude that they both had done an amazing job of raising their children.
I can only imagine what a gift that would be, to one day see your own children thrive as adults, and witness the beautiful lives they lead.
She told me how content, peaceful and joyful she felt.
The next weekend, while back at her home in upstate New York, she suffered a massive stroke, and on Monday, June 11th, she passed away.
I am still in shock, and even in tears, as I write this now.
My mind doesn't quite comprehend how quickly someone you love so dearly can be here, enjoying life, and then be gone, in an instant.
But it happens. Every single day. Without warning.
Even though it's only been a week now, and I am deeply saddened, Fran Cox is now helping me to live a more present life.
I hold on tighter to my children. I play with them longer, before saying, "I have to go make dinner."
I sit in my backyard and listen to the birds. (She loved birds, and could name them all.)
I take more time to give thanks for my health, my home, my husband, my boys and the life I live.
I remind myself that today is a gift.
Because it's really all we have.
And we have a choice, each and every day, how we spend our precious time + where we focus our attention.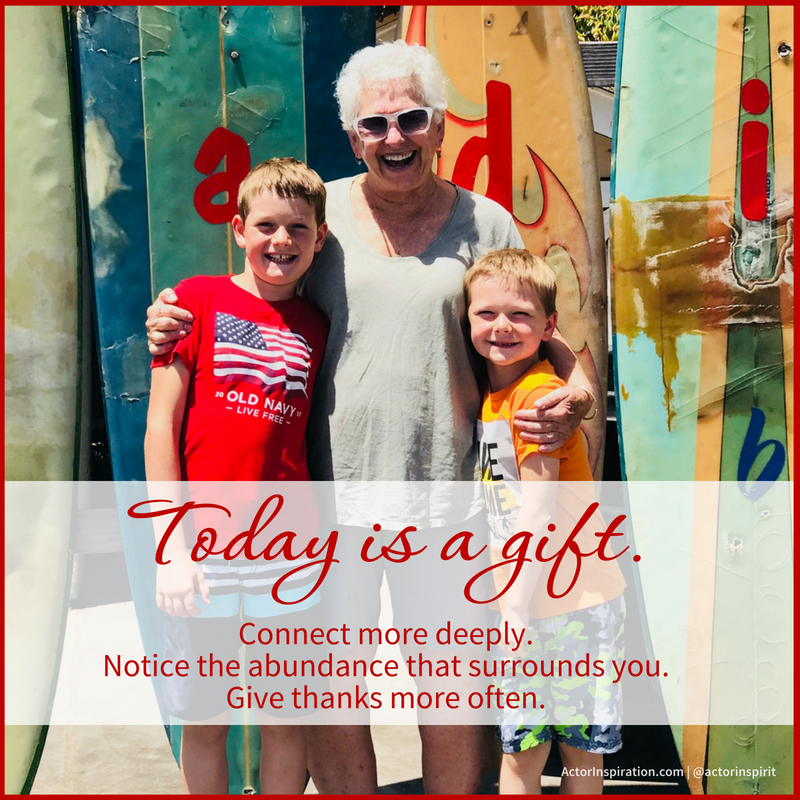 It may sound like a cliche, but it really is the truth. Today is a gift.
Connect more deeply.
Notice the abundance that surrounds you.
Give thanks more often.
And if my mother-in-law's sudden passing can somehow teach me to live more fully, then I hope it can also be a gift to you.
She was an artist, a painter, a sculptor, a meditator, a yoga instructor, a foodie, an ocean lover and a life lover.
She was a wife, a mother,, a grandmother to 6 children, and a beautiful friend to all who knew her.
She was exuberant, enthusiastic, spirited, intelligent, loving, sensitive and strong.
She's been the only mother I've had to see my own children grow up, and always made the time to tell me what a great job Josh and I were doing to raise them.
I loved her very much.
I'm grateful for the special times we had together.
I will miss her dearly.
Thank you for allowing me to share this personal loss with you today.
It is healing to write about it and to try to find the gift in it all.
I hope it actually serves to help you to go live a more present life.
One where you marvel at the miracles more.
And worry about your troubles less.
See how present and loving you can be today with whatever you are feeling, and with those who cross your path.
Feel free to comment below + let me know how you are treating today as a gift.
Love + Gratitude,
– Wendy