The more I look back on the manifestations I've had in my life, whether it has been in my acting career, creating abundance, getting featured in Forbes, or even marrying my soulmate and having a family, there has been a through line that has helped me over and over again…
That is one of ease, flow and letting go. (And I'm a recovering Type-A doer, so 'doing less' wasn't exactly my default mode).

Whenever I tried to "white knuckle" the Universe into giving me what I wanted when I wanted it, not only was I operating from my ego, but I was actually creating more resistance on my own path. (This took me years to understand, so hopefully I'm giving you a shortcut here.)
I now know, I don't have to do it all alone.
I am supported by something bigger than myself, and when I surrender to that power (whatever you wish to call it)  I am always guided to a higher plane.
It has been through this deeper awareness through mindful meditation (check out the collections here), that I have come to know + trust that there has been a divine order to my life and how it is unfolding.
When I am carefree, and flexible with what is (or isn't) showing up, I am signaling the Universe to co-create for my highest good.
The same is true for you.
Deepak Chopra explains that when you create ease + flow within, "you are then no longer bound by the ego's insecurities + cravings."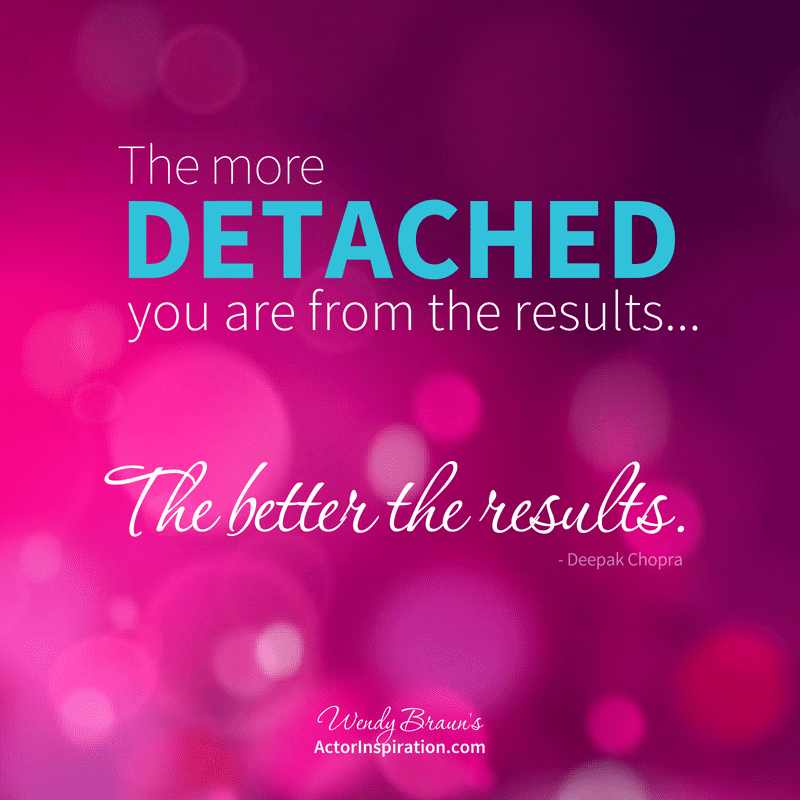 "The more detached you are from the results, the better the results." – Deepak Chopra. 
It's not that we have to let go or lose sight of our desires or our intentions, but when we let go of our ego's timelines and trying to control how things should go, we open ourselves up to divine creation and expansion to step in and lead the way.
Unhinging from the ego's insecurities and cravings is an ongoing daily practice, and it will always guide you back to your true self.
Remember that you are not only here to manifest your desires, but it is through ease, flow + letting go that you actually draw in more abundance in all areas of your life.
Declare my favorite 9 word mantra in the comments: "I let go and invite in something even better."
Make it a daily practice + watch what shifts.
Here's to letting go of the results, so you can invite in something even better.
Love + Gratitude,
– Wendy
P.S.  Want more help letting go in your auditions?  You'll love this free guided meditation.
Need help slaying your self-doubt + owning your power?  Grab this free Warrior Manifesto.