We all want the conditions to change to bring us happiness. If we could only book the job, find the mate, win the award….then, we'd feel better.
At the root of all that is feeling like somehow we are not enough, or worthy or valuable without the external condition we want being met.
I get it. I've been there. Heck, I was there last month when a few self-tapes I felt great about turned into…well, not booking the job. (Then Atypical called, and now I am back for Season 4). What a rollercoaster ride we go through as actors.
We put our hearts + souls into every audition, and when it doesn't turn into a booking, it can chip away at who we think we are.
Now, I love that I get to play for a living, and I was proud of the work I did in both of those auditions, but it got me thinking about how much we define ourselves by whether we book the job or not + how dangerous that can be to our self-esteem.
So, my #MondayMotivation is for you to begin the week knowing this…Whether you booked a job this month (or year) or not.
Even if you had 5 self-tape auditions with no callbacks.
Even if you have friends whose lives look perfect on the outside.
Even if you're going through a rough time.
Even if you just got your heart broken.
Even if you don't know how you're going to pay your rent.
Even if you're feeling sad.
Even if you're feeling frustrated.
Even if your big dreams haven't come true yet.
Even if you wonder how they ever will.
Please know, that your happiness, doesn't lie in the next "booking."
Sure, it's fun to book the job, but don't spend your days between now + then waiting to be happy, to feel like you're enough, to feel worthy or to feel valuable.
Your happiness and all those feelings are a gift you can give yourself TODAY.
No matter where you are in your life or career (even if it's not quite where you thought you would be by now), please breathe this in…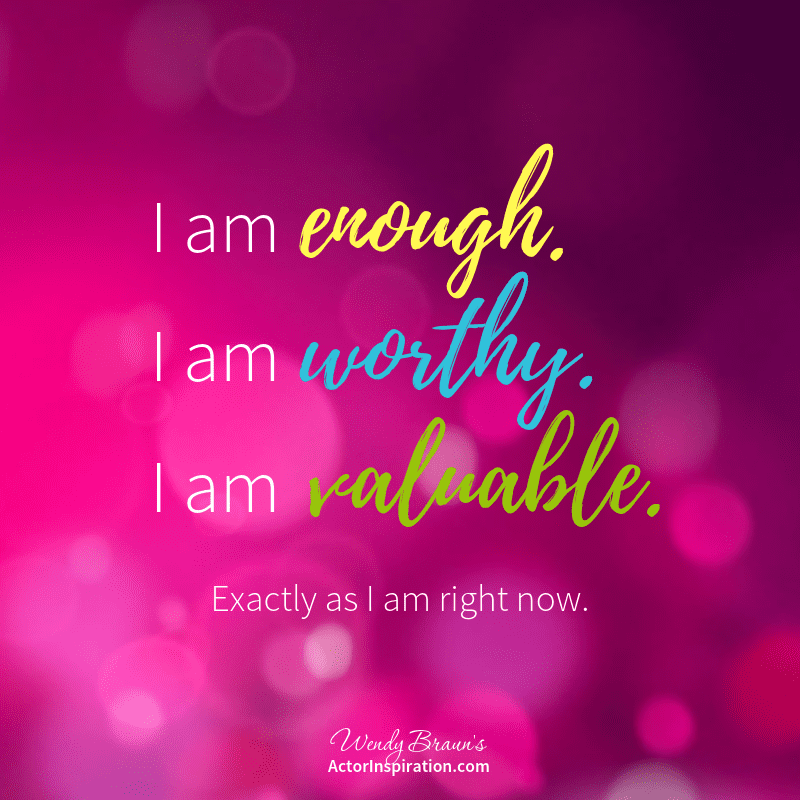 I am enough.
I am worthy
I am valuable.
Exactly as i am right now.
Make it your screensaver. Set a reminder on your phone.
And next time, instead of checking Instagram, check in with yourself, how you feel.
Tell yourself these 3 little "I AM statements." Then, let go of needing the conditions to change to feel good + watch what kind of abundance you attract into your life.
Leave a comment below + type in these declarations so I know you are committing them to memory.
I am enough. I am worthy. I am valuable. Exactly as I am right now.
L + G,
Wendy