I know that heading home for the holidays (or even on a family Zoom call) emotions can get triggered, questions get asked + expectations for perfection are high.
You may find yourself sitting at the dinner table feeling the need to explain yourself and your acting career more than ever.
This is easy to do when you're working.  It's fun to share what you've "been in lately" or where everyone can tune in to "catch you next."
But what about those times where you don't feel you have "anything to show for your efforts?"
Inquiries about your "actor-life," can start to trigger frustration, self-doubt or even sadness.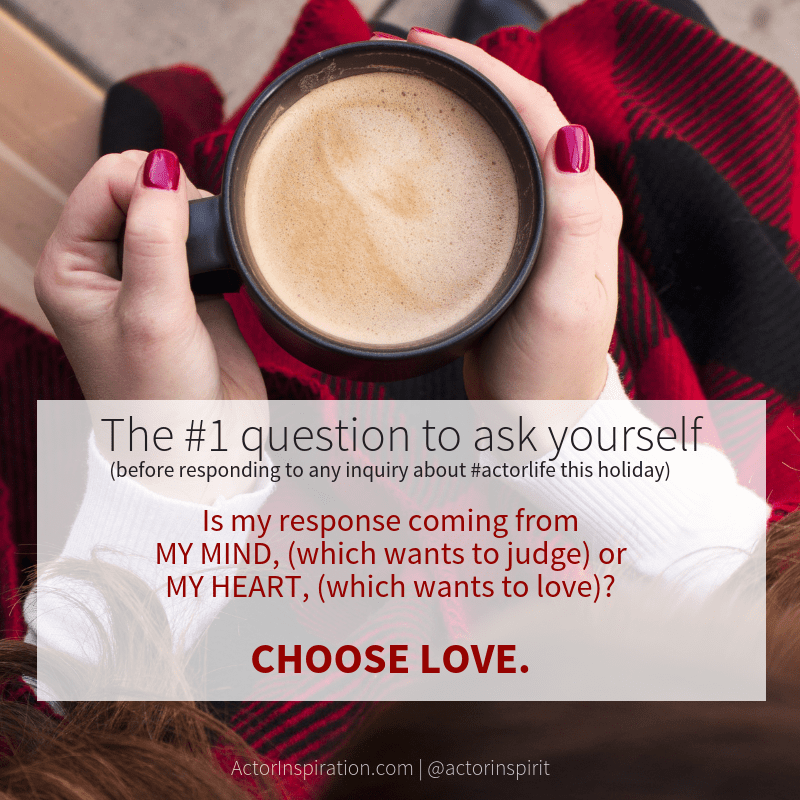 If you don't take time to quiet your mind this season (or anytime of year), it will continue to judge + label everything you do as good or bad.
Even though it may feel like inquiries about your acting career sting, the real issue is that you've come to the table already labeling yourself as bad or a failure or a fraud if you
haven't booked anything in a while.
aren't making a real living acting.
have siblings with "real jobs" who are thriving.
____________(whatever story you tell yourself of why you are "not enough")
It's your own shame, blame, fear, frustration and harsh judgment that other people's questions are most likely bringing up within you.
Here are 5 Tips For Peaceful Holiday Gatherings + How To Answer Questions About Your Acting Career

Take a moment BEFORE you sit down to any holiday gathering to quiet your mind + make peace within you.
Soften your OWN judgment about where you are or the feeling that you "should be further along right now."
Do not use questions as an opportunity to defend yourself, but rather to share your vulnerability.
You could simply reply to "How's the acting career?" with "I'm enjoying the journey + excited for what is ahead"
They might say, "Why, what's ahead?" and you can reply with, "I have no idea, but that's what makes it so exciting."
Take nothing personally + simply answer from your heart (which only loves), not your mind (which only labels).
Keep your answers brief + ask more questions.
Ultimately people love to talk about themselves, so feel free to throw the question right back with, "How are things with you? What was the most fun you had this year?
The key is to answer any question from a state of pure unconditional love (for yourself + the inquirer).
Many people outside the industry are well-meaning, but sincerely don't know the questions to ask an actor.  Others are simply critics + will always find fault in those who are courageous.
Best-selling author, Brene Brown, reminds us that:
"Vulnerability is the most accurate measure of courage."
In fact it was her own naysayers in the height of her recent TED Talk fame that led her to this Theodore Roosevelt quote (and the title for her recent best-seller, Daring Greatly.)
"It is not the critic who counts; not the man who points out how the strong man stumbles,
or where the doer of deeds could have done them better.
The credit belongs to the man who is actually in the arena,
whose face is marred by dust and sweat and blood;
who strives valiantly; who errs, who comes short again and again,
because there is no effort without error and shortcoming;
but who does actually strive to do the deeds;
who knows great enthusiasms, the great devotions;
who spends himself in a worthy cause;
who at the best knows in the end the triumph of high achievement,
and who at the worst, if he fails, at least fails while daring greatly."
Pursuing an acting career takes courage, effort, determination, perseverance, patience + most likely, blood, sweat + tears.
Know that no matter how many new credits you added to your resume this year, that you are among the bold, the brave + the few who dare greatly each and every day.  Be proud you are in the arena.
Keep in mind that the person who asks you, "Are you're making a good living acting?" might be doing well financially, but may secretly wish they were as brave as you, who has the courage to follow your dream in the face of uncertainty.
Ultimately, you'll never really know what's going on in the minds of other people, but when you quiet your own, you'll discover that who you are right now is more than enough.
Leave a comment below + let me know your favorite takeaway.  I love hearing from you.
Wishing you peace, serenity, love + joy this holiday season and always.
Love + Gratitude,
~Wendy
P.S.  I"m kicking off the New Year helping actors gain clarity, eliminate overwhelm + jumpstart your best year yet.  Get on my VIP Waitlist here + be the first to know about my free events!
🎁 Then grab your "stress-free" holiday guide here.