Do you get that feeling of pure joy and simultaneous panic when you see an email from your reps that says "SELF TAPE REQUEST?"
Do you check the due date immediately + start rescheduling your day to make your audition the new priority?
I hope so.  That's what working pros are doing right now to compete at the highest level.
(That's also how I booked a top-of-show guest star on Grey's Anatomy off a self-tape).
Look, we all know self-taping is here to stay.
And of course you want to give your best performance, but now you have to make sure the sound, lighting, framing and other technical aspects are at a top professional level too.
There's definitely a lot of noise out there right now on what to do and what not to do, and so I  put together one simple checklist to make it easy to deliver self-tape success.
Every. Single. Time.
I created this Self-Tape Success Checklist and I wanted to make sure you, my loyal reader, can access it for free!
You can download your Self Tape Success Checklist here for free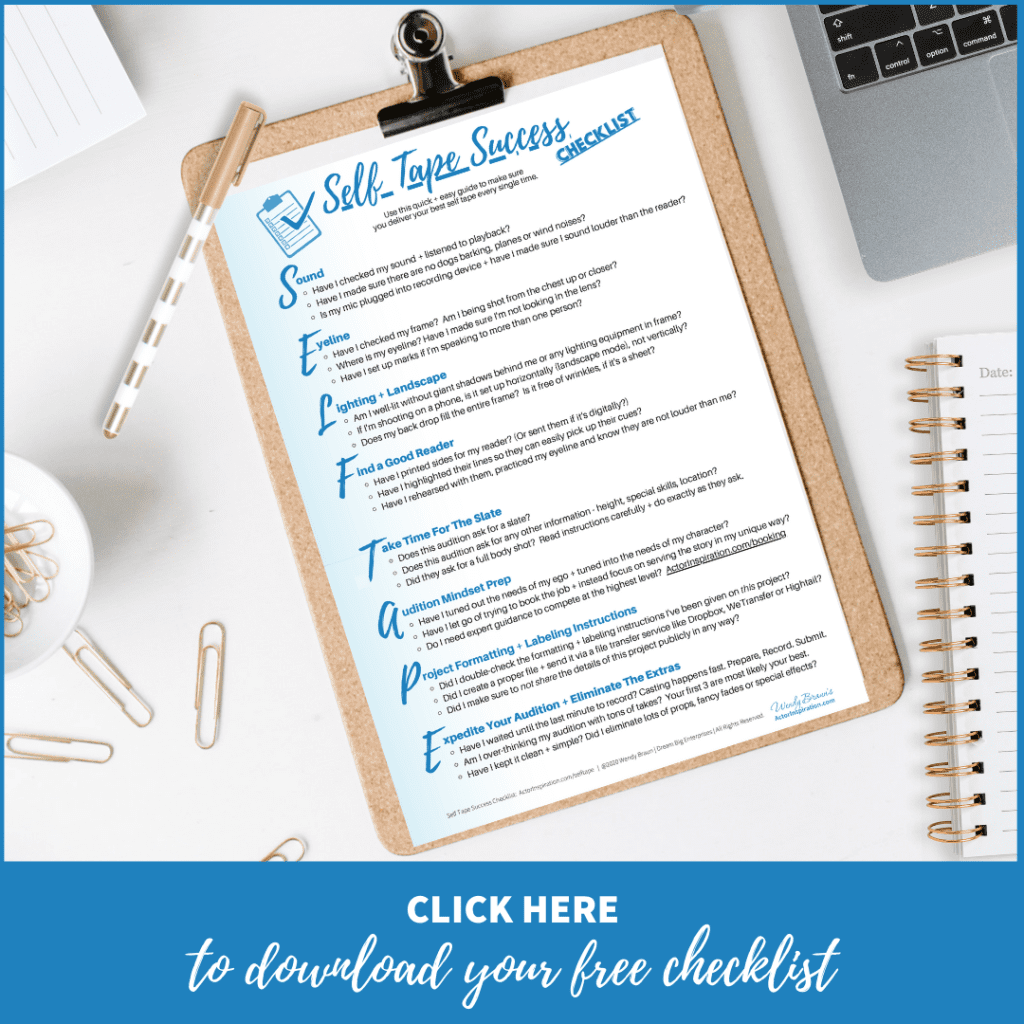 Here's a sneak peak at all you'll need to cover to deliver awesome self-tapes (and of course, I made it into an alliteration).
Sound
Eyeline
Lighting + Landscape
Find A Good Reader
Take Time For the Slate
Audition Mindset Prep
Project Formatting + Labelling Instructions
Expedite Your Audition + Eliminate The Extras
In fact, under each subject, I've listed the top 3 questions to ask yourself + I offer some key insights I've personally used for my own self tapes that booked me the job.
Download The Self Tape Success Checklist Here.
This will serve as one complete list to help you ask yourself all the right questions and feel confident with every self tape you send.
Even if you go to a self-tape service, bring this checklist with you to ensure you're not missing a beat.
Just my way of saying thanks for being part of this awesome #ActorInspiration community and to help you rock those auditions + book more jobs.
Remember: It is the work of the artist that illuminates, empowers and inspires.
We need you to be ready to play at the top of your game.
Download the checklist here + have it ready to go for your next audition.
And I hope to see you on the set soon.
Let me know in the comments below what your biggest challenge is doing self tapes.
We are really all in this together.
Love + Gratitude,
Wendy
P.S. Want to invite in more success + abundance in your acting career (and your life?)  Check this out.