Sometimes the simplest shift can yield the greatest change, when we really commit ourselves.
If you want to make a big shift in your life + your career before the holidays, here are 2 quick solutions…
1) Come learn How To Have A Success Breakthrough in my complimentary Live Masterclass where I'll show you how to create bigger results with far less effort.
Click here to see me LIVE in Los Angeles (only 2 dates left + filling fast)  
Click here to see me LIVE in Vancouver (it's almost full)  
Click here to see me LIVE in your city. (get on the VIP list now) 
Click here to attend the ONLINE version in January 2020  
I love helping actors break through barriers + feel a major shift in under 90 minutes.
"I was feeling a hollowness of something missing in my life + career when I went to see Wendy live.  Not only did she speak to my soul, but I couldn't believe how a quickly things turned around for me."    – Denisse O.
"For people who are lucky enough to see Wendy live, her free masterclass changes lives.  It just does. She meets you where you are, shows you the walls that have been blocking you, and then lovingly helps you to break them down."
 – Janna C.
2) Recommit this month to the spiritual practice of daily gratitude.
So often we forget that no matter how things have gone for us lately, we can begin again….today.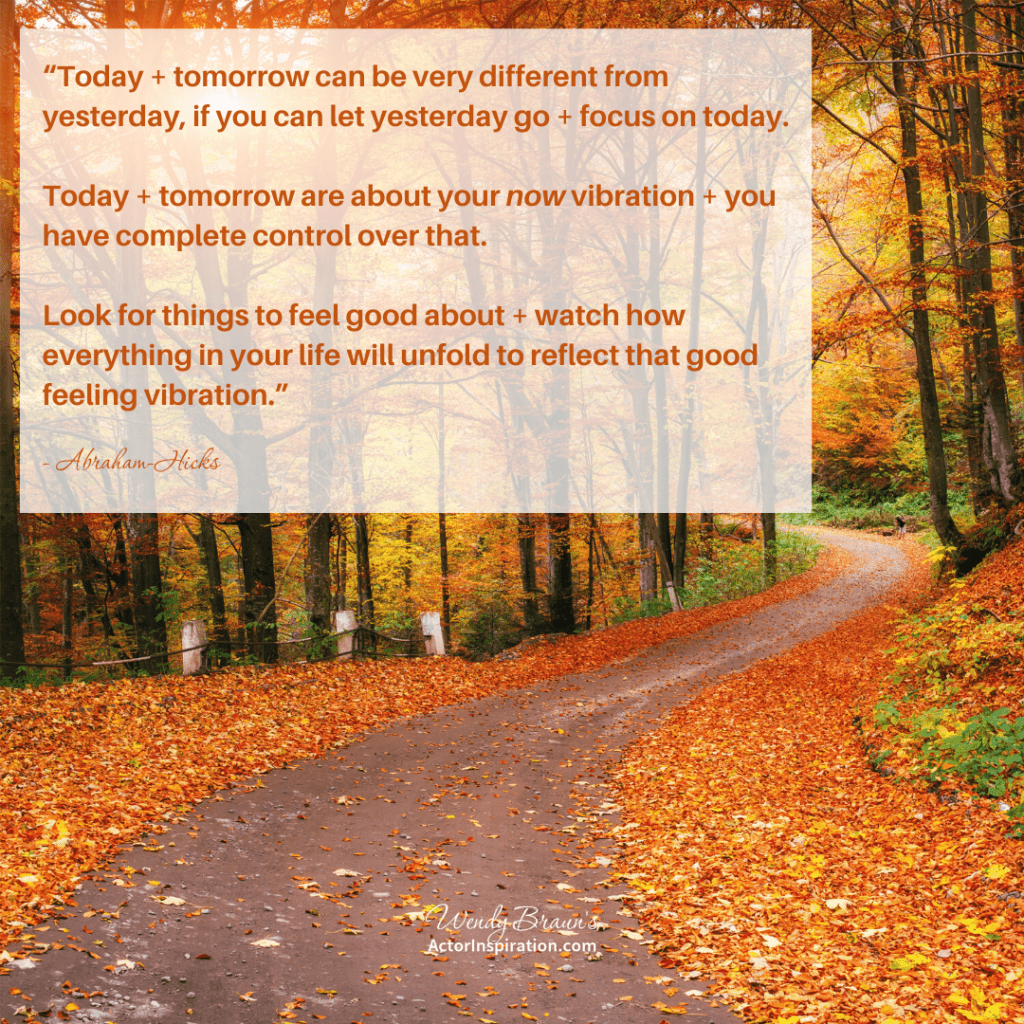 "Today + tomorrow can be very different from yesterday, if you can let yesterday go + focus on today. Today + tomorrow are about your now vibration + you have complete control over that. Look for things to feel good about + watch how everything in your life will unfold to reflect that good feeling vibration."
– Abraham-Hicks

Nothing is more important than feeling good. It's actually why you want everything you are seeking, for the feelings they will bring.
But the real secret to experiencing more joy now while also manifesting your desires, is not waiting them to arrive to feel better, but feeling good along the way.
And the fastest way to feel better is through the simple yet effective practice of gratitude.
Best selling author Joe Dispenza states, "The longer you feel gratitude, the more you're drawing your new future to you because gratitude means it has already happened. Gratitude is the ultimate state of receivership. The latest research in neuroscience shows that when you close your eyes and begin to think about your future and embrace the emotions you are going to feel when that event happens. That you are actually installing the neurological circuitry of that experience in your brain."
So practicing daily gratitude is not only for the benefits or rewiring your brain, but nothing puts you in a better state of joy, than  true appreciation.
It is in expressing gratitude, that you invite in more to be grateful for.
But it's not about doing so to get somewhere else. It's truly about enjoying the experience of this moment now.
So this month, why not renew your commitment to daily gratitude by simply pausing for 10 minutes every day and giving thanks?
When you give thanks for what is and you give thanks for what is coming (even before it shows up) you tune yourself to the frequency of love.
You'll be training your brain to look for the good in every situation and circumstance, as you draw your future to you.
Not only will you begin to feel better, but you'll be amazed at what starts showing up for you.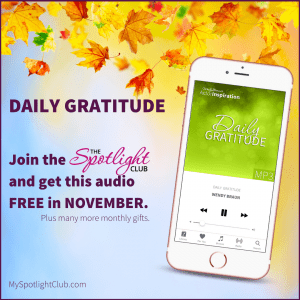 And if you want to make it super easy to commit to this practice, download my newest audio "Daily Gratitude."
It's my gift to you here. 
In this guided meditation + visualization, I'll guide you to give thanks for what is currently in your life + also what you'd like to have show up.
In under 10 minutes, you'll feel your mood shift + your energy lighten.
Do this for 30 days and you'll also be opening the door for wonderful unexpected surprises to appear.
Some will wonder what has changed with you, what you're doing differently, why you're lighting  up in a whole new way, and you will know it's all because you took the time to practice daily gratitude.
Click here to get "Daily Gratitude" as my gift to you this month
And you'll also receive 6 other monthly mindset + manifestation gifts too, (Including a live Q + A session with me this weekend)!
However you get there, I hope you commit to this powerful spiritual practice in whatever way feels best to you.
In fact, why not renew this daily gratitude ritual right now?
I'll start.
1) I'm grateful to connect with you in your sacred email inbox each + every week.
2) I'm grateful to meet so many amazing actors in person on my Success Breakthrough City Tour…
3) I'm grateful to be living the life + career I once imagined in my dreams.
Now it's your turn. I love hearing from you.
Let me know in the comments on the below, 3 things you're grateful for today.
Here's to a week of appreciating what is already in your life + giving thanks for what is coming.
Love + gratitude,
– Wendy