Last month I was asked to be the guest of honor and guest speaker at a charity event, back in my hometown of Northbrook, Illinois, a northern suburb of Chicago. (Basically where all the John Hughes movies were filmed.)
They wanted me to talk about how I went from performing in the musicals, plays, variety shows + choirs at Glenbrook South High School to becoming an established actress in Hollywood.
The more I thought about my journey from performing back high school to now having over 75 tv + film credits, I realized that the running theme along the way, was that I simply…kept going.
I kept going in the face of obstacles.
I kept going in the face of uncertainty.
I kept doing the things that scared me the most.
Ultimately, my success has come from mastering the fine art of dealing with failure, rejection + disappointment.
That is the real key to success.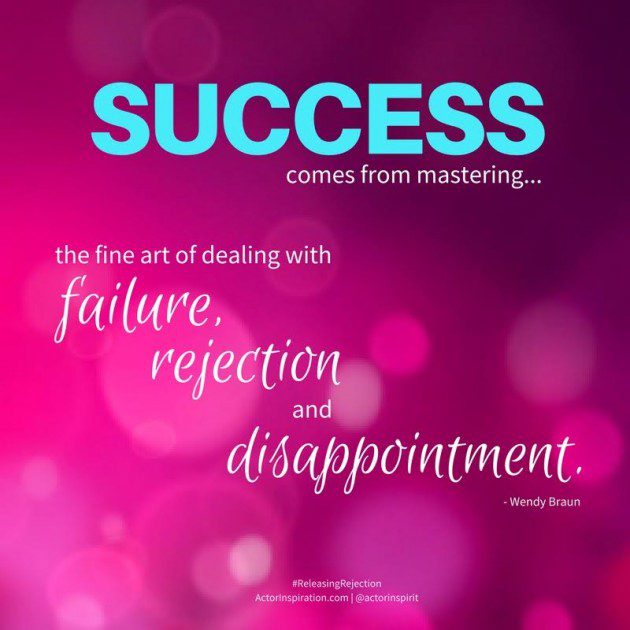 There isn't one successful person on the planet who hasn't failed, been rejected or felt disappointment.  It's whether you allow it to derail you or drive you that will ultimately shape your future.  
I love Nelson Mandela's brilliant insights.  He says,
"There is no losing. There is only winning + learning." 
And yet so often, we are afraid of failing or feeling out of place, so we don't even try.
But when you can embrace failing, rejection +  feeling disappointment as part of the journey towards success, you then can find the gift in each experience, build inner strength, and to ultimately discover who you really are.
So, remind yourself this week, no matter how many setbacks show up, no matter how many rejections you may face, that you are on the right path.
Find a way to learn something, dust yourself off and keep going.
Do that over and over again + I know you will meet success.
Leave a comment below + let me know how you handle rejection + disappointment.
Love + Gratitude,
– Wendy