Ever find yourself feeling elated, excited + enthusiastic about life and then the next week find yourself feeling disappointed, sad or just crying in a heap?
This was me for the first 2 weeks of May…riding high and then feeling really low.
The highs are easy, right?
But, when the low point came, I found myself saying things like "You know that feeling bad isn't helping. You have a great life. Snap out of it. What's your problem?" 
Then, I finally allowed myself to just not feel good, to lay on the couch with my dog and simply sob for all kinds of reasons and for no reason at all (while telling him he has it all figured out – after all, "dog" is "god" backwards + that's gotta mean something!)
I allowed myself to embrace the situation as it was, to feel whatever it was I was feeling without telling myself I should feel better or that I should be doing something else (something other than sobbing with my dog while my sweet husband offered his support.)
And ya know what? I highly recommend it.
What I came to discover is that the way "out" of those disappointing, frustrating + sad moments is to go fully through them.
The best way to handle it all is to allow yourself to come unhinged + give yourself permission to not have to "get it together" on demand.
So here's what I now know.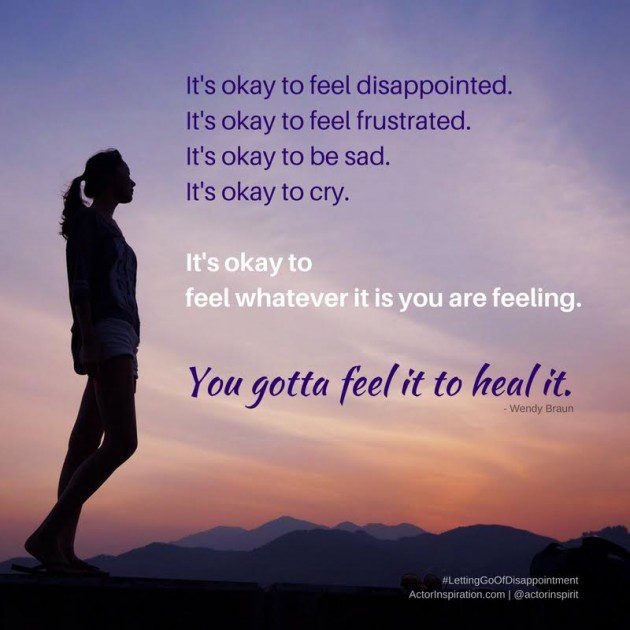 They key for me was to stop judging that any of these emotions were bad or wrong, but to realize that they're really just energy moving through me. Releasing them is everything.
And, to my own surprise, I didn't get sucked into a black hole of darkness for days or weeks on end, like I thought I might.
Once I got through my own personal meltdown, at the end of it all, I actually started cracking up.
So I hope this helps you know that emotions are simply energy and when you face them and feel them, you will heal them.
So no matter what is or isn't happening on this wild ride of your actor's life, I hope you know that it's okay to feel whatever it is you are feeling today.
Leave a comment below + lemme know what you are feeling right now. Declare it here. #IAllowMyselfToFeel________ and fill in the blank.
And another bonus of feeling all of your emotions, is that it might just help you become a better actor in the process.
Sending you lots of love + a virtual hug, no matter how you are feeling today.
Love + Gratitude,
-Wendy