Do you know the 2 most important words that shape your life?  They are the words "I Am."
Whatever you say that comes after those two words shapes your day, your month + your life.
I'm sharing share some of my favorite "I Am" mantras to help you end the year strong and serve as a loving reminder that you are so much more than your career and your latest credits.
You play many roles in your life + they are all meaningful and valuable.  "Actor" is only one of those roles, just as "what you've done" in your career this year is only one facet of the multi-faceted diamond that is you.
Here is a loving reminder to help you end the year knowing that not only are you enough exactly as you are right now, but that you are a precious gift.
Download + print "I Am A Gift" here + then say it OUT LOUD…
Treat yourself this way as the year comes to a close + you will start the New Year off in the right direction.
Pause and read this anytime you feel your inner critic try to define you, judge you or criticize you…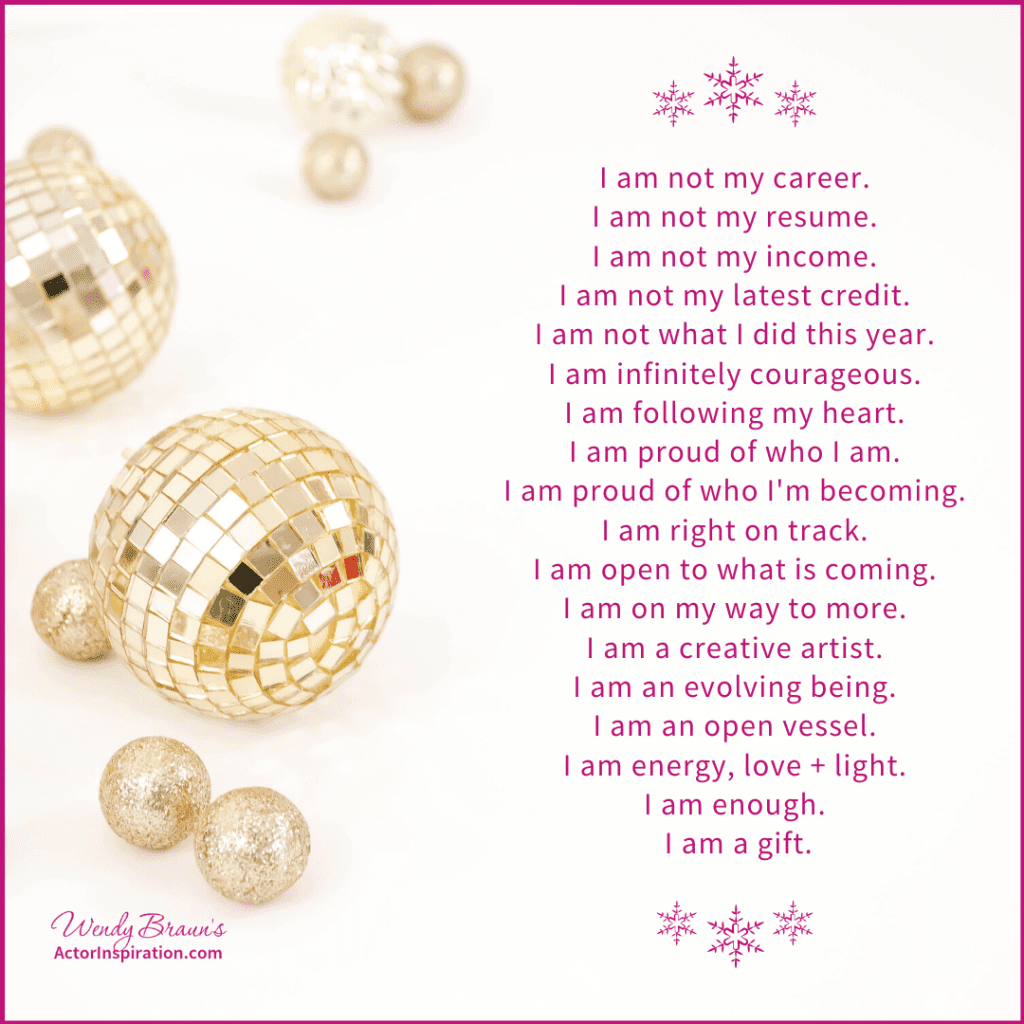 And if you've been judging yourself even more this time of year, or just need some help embodying these declarations, I hope you'll pause right now + follow along with me…
How did that feel?  Do this help you realize how hard you've been on yourself?  Was it easy to declare "I am enough?"  Did any specific mantra get you choked up?  Let me know in the comments below which mantra spoke to you the most.
Then print this here + tape it to your bathroom mirror or screenshot it as wallpaper for your phone.
Taking a mindful moment to release your judgment and let love rule will help you end the year strong and create success in the New Year.
How else can you create success in the New Year?  You're invited to my house (well, virutally) for a free LIVE masterclass to help you jump start January with clarity + confidence. Be the first to get an invitation: Click here to JOIN THE VIP WAITLIST.
Thank you for being a gift to me.  As the words pour from my heart + soul every week, I am so grateful to know that they resonate with you.
Happy Holidays!
Love + Gratitude,
~ Wendy
P.S.  Do these 2 things to end the year strong + set yourself up for success in the New Year!
1. Print your "I Am A Gift" year end mantras here.  Screenshot + share the love + tag me at on Instagram.
2. Find out about a special LIVE virtual training to help you create big breakthroughs in the New Year!
Click here to JOIN THE VIP WAITLIST